Plowing Ahead: The Best Snow Plows And Snow Plow Kits For Yamaha UTVs
Nov 15th 2022
Many UTV owners live in places like Texas, Florida, and Arizona, where snow is extremely rare and the need for UTV snow plows is nearly nonexistent. But for those who live in the Rocky Mountains, the Great Lakes area, or anywhere else that receives ample amounts of snowfall, a UTV snow plow kit could be the perfect accessory for you and your Yamaha side-by-side! While Yamaha Wolverine snow plows and Yamaha Viking snow plows are more commonplace than Yamaha YXZ snow plows, there's nothing stopping you from using your YXZ to push snow. But which snow plow kit is optimal for which application, and is there a particular type, size, or style of snow plow blade that works best with Yamaha side-by-sides? These questions and more will all be answered here, so let's get to it and discover the best snow plows and snow plow kits for Yamaha UTVs!
Snow Plow Blades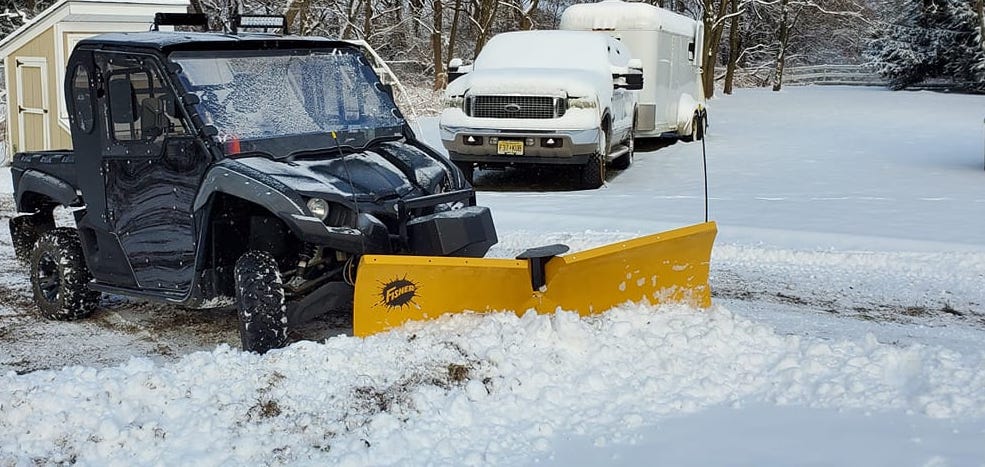 Before we get to the various brands and styles of UTV snow plows, it's important to first consider the blade, and in particular, the blade size, blade shape, and blade material.
Poly Vs Steel
There are several benefits to be had from using an ultra-high-molecular-weight (UHMW) polyethylene snow plow blade. At certain temperatures and in certain conditions (like if you store your rig inside and then use a warm blade in the freezing cold), snow is more likely to stick to a steel blade. This isn't an issue with poly blades, and snow will slide right off regardless of whether it's dry and crusty, or wet and slushy. Poly blades are also easier to move around by hand when they're not attached to the vehicle, but they aren't the best at removing compacted snow. Because steel blades give you more down pressure, they are better suited for removing stuck-on ice and compressed hardpack.
Blade Size
As far as blade size is concerned, you can do alright with a 60" or 66" blade, but if you go with a 72" blade, it'll be the same width as (or wider than) your machine when tilted at an angle. This not only helps with regards to traction, but it also prevents you from compacting the very same snow you're attempting to remove.
V-Blades Vs Straight Blades
Unless you want to bust through big drifts in a single swath, you should be fine with a straight blade snow plow. That being said, however, V-blade snow plows do come in handy for angeling, directing, and scooping snow, but they're more expensive and require greater know-how than a straight blade setup. For commercial applications, V-plows are often used because their dual blades can be fine-tuned independently to either stack snow or push it with precision in a particular direction. But for your everyday user, however, who wants a UTV snow plow to clear their driveway or yard, a straight blade is more than sufficient!
Yamaha Viking Snow Plows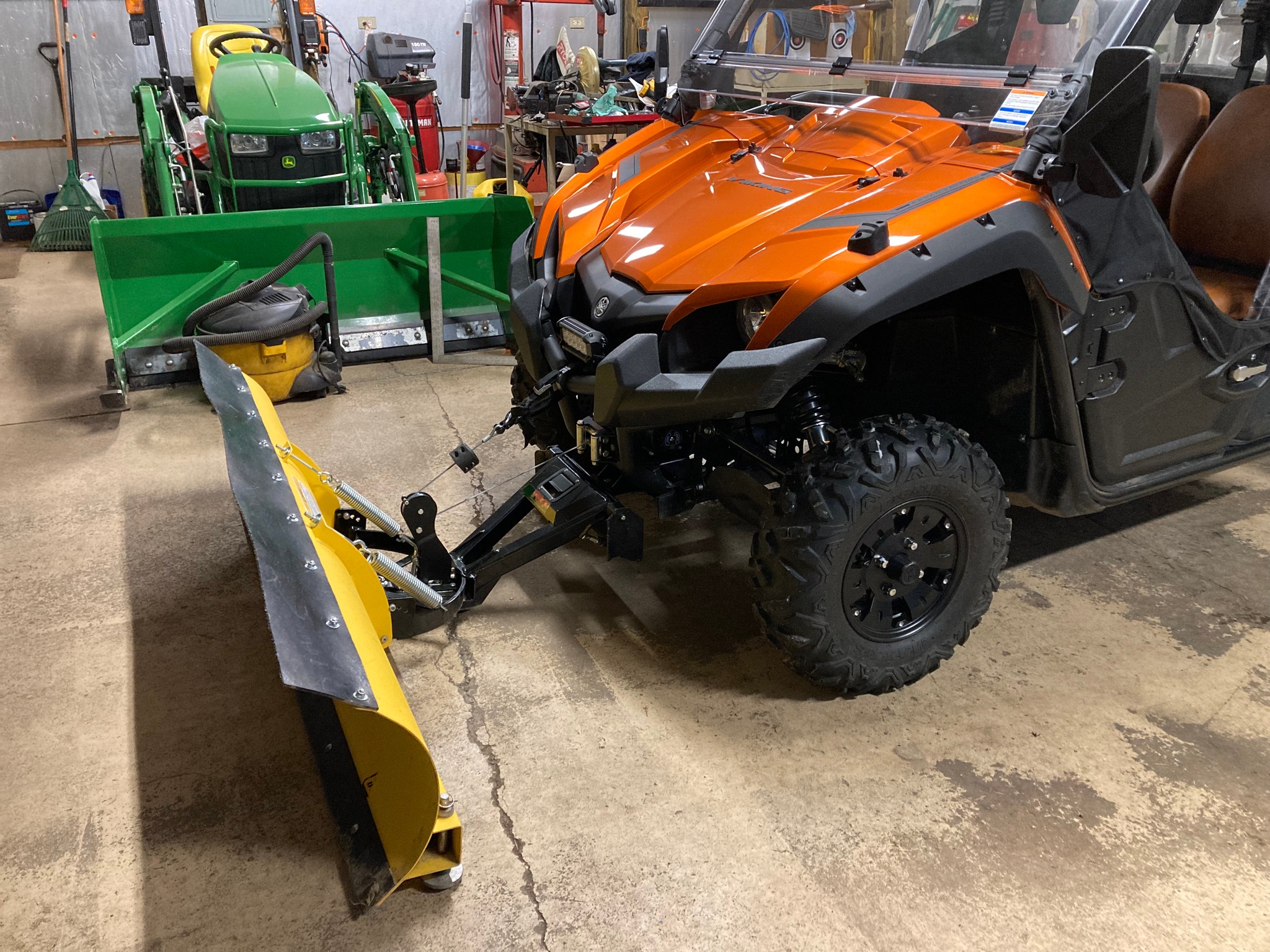 Although it does depend on the kind of snow you get – i.e. wet and heavy, light and fluffy, or crystalline / hail-like – there are definitely Yamaha Viking snow plows that are all-around better than others. If you've got unlimited funds, the Boss XT is a high-quality unit. That said, some of the lower-priced options are just as good. The 72" KFI snow plow system, for example, is widely regarded as one of the best there is.
Unlike the Warn Provantage plow from Yamaha -- which has weak mounts that are known to bend and break -- the mounts on KFI plow kits are extremely robust. KFI plow kits come with everything you need to get started, and it's all quite simple and straightforward to add. The plow disconnects from the mounting plate with two pins, so putting it on and taking it off is super easy.
Aside from KFI snow plows, the Subzero snow plow kit by Tusk as well as the Click-N-Go snow plow by Kimpex are also solid options. And like we mentioned earlier, using a 72" blade is typically the best bet for Yamaha side-by-sides!
Yamaha Wolverine Snow Plows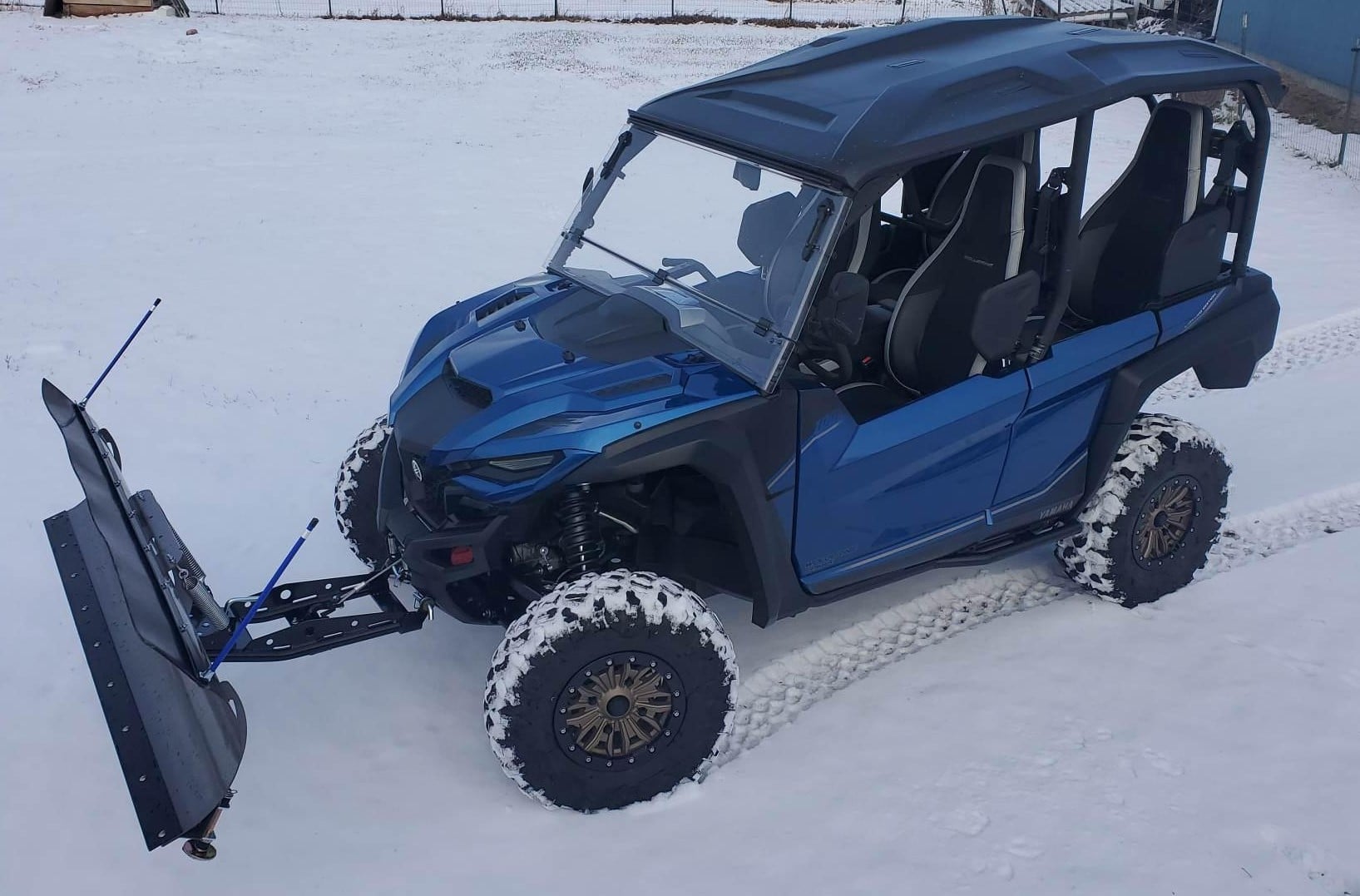 Like with the Viking, KFI, Kimpex, and Tusk snow plows work equally well on the Wolverine RMAX and Wolverine R-Spec. But some other good Yamaha Wolverine snow plows include the ones by Moose and Kolpin. The Conqueror plow system by Kolpin comes with a mount, a push tube system, a power angle blade adjuster, and a blade. Of course you can use a Kolpin winch to power the Kolpin snow plow, but most other UTV winches can also work.
When running a KFI plow on the Wolverine, we suggest using the KFI mount over the Yamaha mount to lower the pivot point. If you catch something just right and your plow doesn't spring over it, the blade will pivot downwards and lift the entire front end of your machine off of the ground.
Yamaha YXZ Snow Plows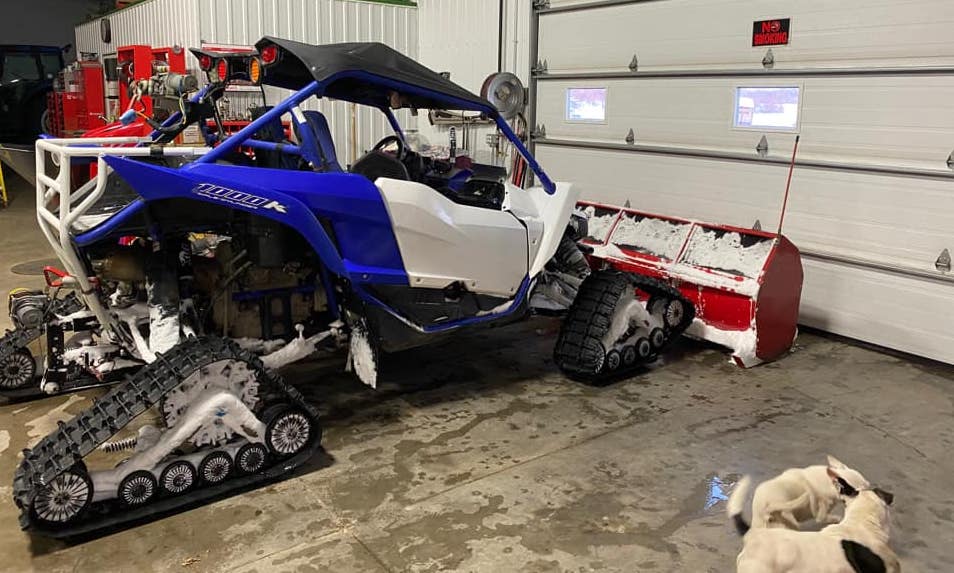 The YXZ ain't no tractor, but that doesn't mean you can't plow a little snow with it! If you're only plowing a couple of inches, you should be fine with the stock YXZ. But for those who intend to do move some serious powder with their Yamaha YXZ snow plows, it might be wise to look into Crawl Force's CrawlBox. The CralwBox preserves your 1:1 gearing in the high range, but it also allows you to switch to a 3:1 gear ratio in the low range so that you don't burn up clutches when plowing. Snow tracks with gear reductions can also work, but most tracks will reduce the vehicle's top speed, and plowing generally works better when you're moving somewhat fast.
To better equip your YXZ for plowing, you can also add a heavier flywheel, an Alba HD clutch, or a 6-spring pressure plate. Many of the aforementioned plows we discussed previously will also work on a Yamaha YXZ, but Denali plows and the universal TJD plows with YXZ adapter plates are a few other quality options.
Proper Plowing Tips And Tricks
Reserving Space
There are certain techniques that Yamaha UTV owners can implement for better results when using their rigs to plow snow. It's important to push your snow piles back further than they need to be before stacking in the vertical direction. Some UTV snow plows can't go very high, so you need to plan accordingly. If you don't make extra room at the beginning of the season, the initial snow banks you create will freeze over and become nearly impossible to move. If you don't get a lot of snow, this may not be a problem. But if you live in an area that experiences regular dumps, a little pre-planning will go a long way!
Plowing In The Dark
In addition to planning out your plow routes and pile locations, you might also want to invest in a light bar or some other aftermarket sources of light for plowing at night or in the early morning. When your plow is in contact with the ground, the factory headlights may still prove somewhat useful. But when you lift the plow blade – even just slightly – it will block your stock headlights completely.
Using A Plow Strap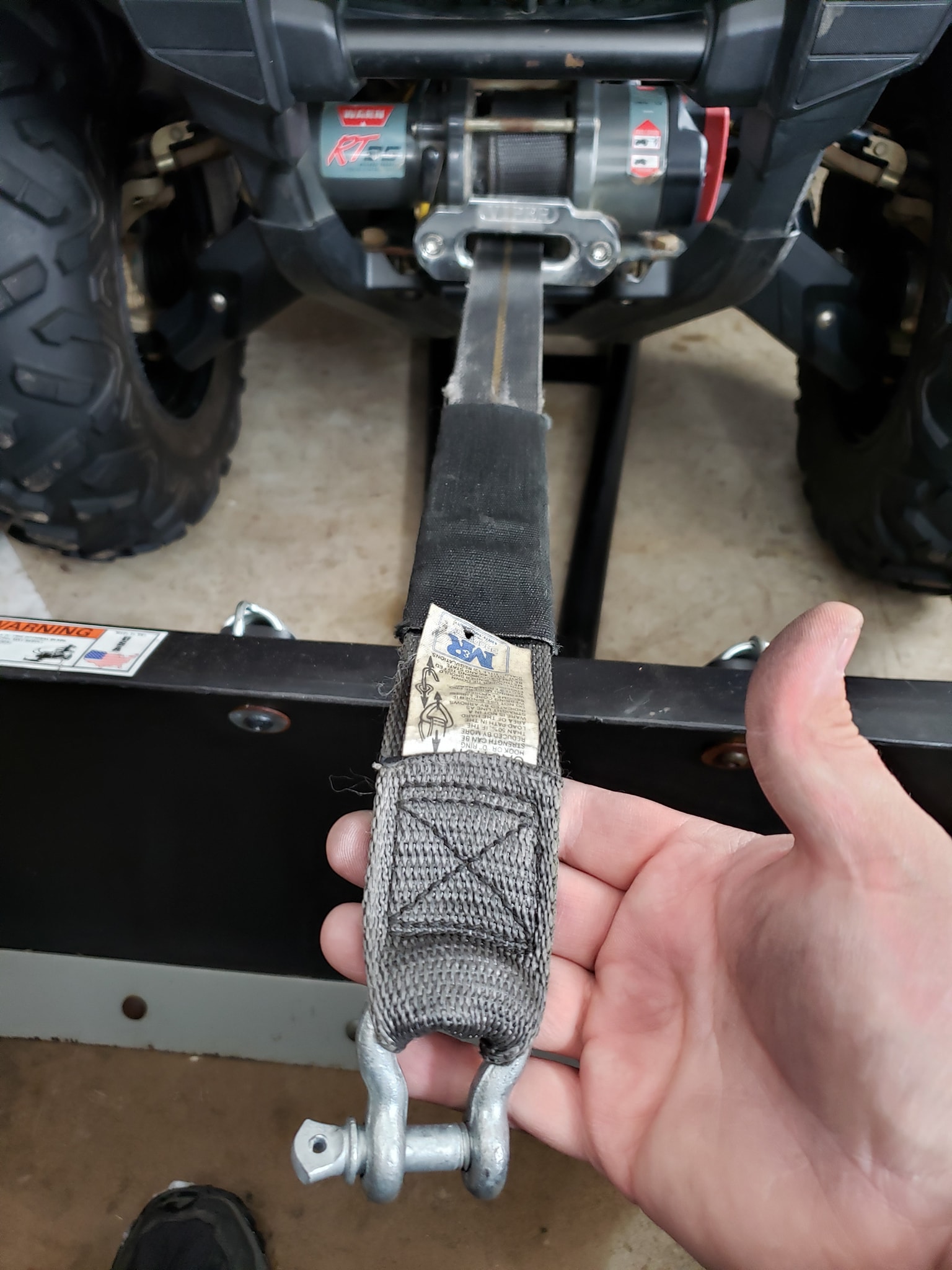 For those with winch-driven plows, you've probably noticed that the sharp angle of line causes rapid wear. To fix this, you can add a fulcrum / pulley to the blade so that the line comes straight out, or you can use a plow strap and reserve your steel or synthetic winch line for extraction / recovery purposes. KFI, Moose, and Warn all make specialized snow plow straps that you can use in lieu of a standard steel winch cable or synthetic winch rope.
Keeping Traction
Your UTV can drift in and get packed pretty hard when plowing, so running chains on the tires and throwing a couple sandbags in the bed is a good precaution to take. The extra load in the rear will also act as a counter weight, making it easier to for your bike to handle bigger scoops.
Final Remarks
If you ram head-on into huge snow drifts, you might experience some issues with your vehicle's front end. And just like towing beyond your rig's capacity, pushing more than it's rated to push can also be hard on your UTV. In general, though, if you play things smart and never overdo it, you should be fine using a snow plow on your Yamaha side-by-side. And if implement the tips we discussed here today, you'll be able to make quick work out of any plow-related project!