​What Type Of Trailer Works Best For Yamaha UTVs?
Aug 30th 2022
There are many trailer options available for UTV owners to choose between, with a near-endless amount of features, sizes, and styles. There are expensive enclosed trailers, and cheap single-axle trailers. Some trailers include built-in loading ramps, while others include side rails and front mud guards / salt shields. Although there's no one-size-fits-all trailer for the Yamaha Wolverine, Viking, and YXZ, there are several features that do prove beneficial for Yamaha side-by-side owners. At the same time, however, there are many unnecessary features that contribute nothing to the experience of side-by-side owners. So which type of trailer will work best for you and your Yamaha UTV? Below are our thoughts on the matter!
Single-Axle Trailers Vs Double-Axle Trailers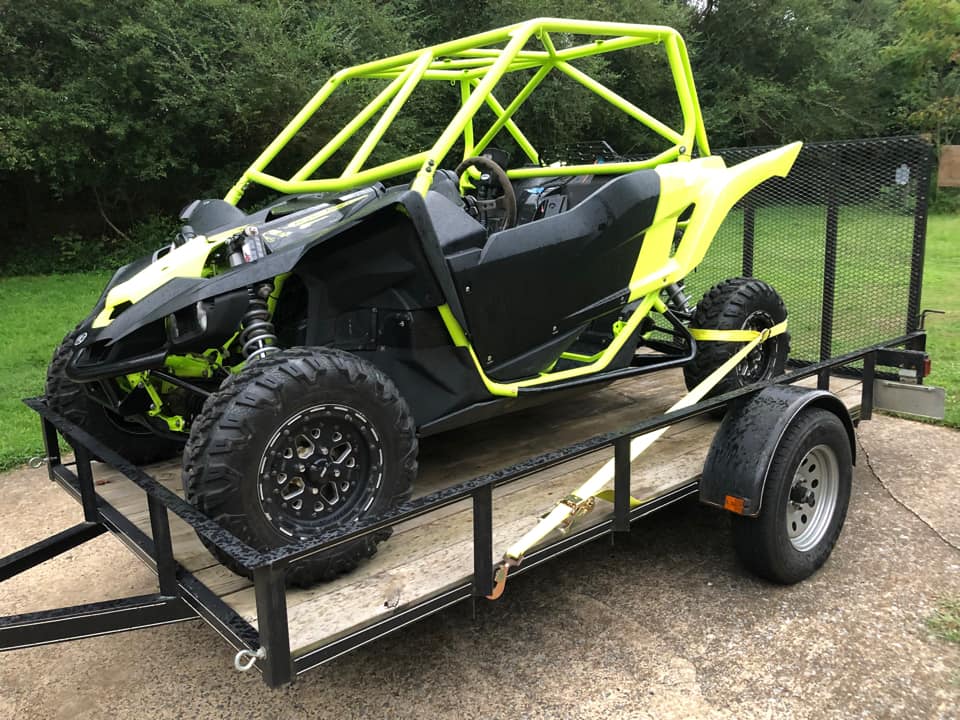 Neither single-axle nor dual-axle trailers are superior in all ways, and either type could be more beneficial for your situation. If you've got multiple machines you're looking to haul simultaneously, a double-axle trailer will be the ticket. But if you've got a 2-seater YXZ or Wolverine X2, you might not need the extra space that dual-axle trailers provide. Some riders prefer small, single-axle trailers because they don't have a powerful tow vehicle, while others opt for short trailers because they fit better inside sheds, garages, and barns.
If you pull your bike behind a "fifth wheel" or other RV, you might need a 10ft trailer to keep the total length of your setup below 65ft (which is the legal limit in many states). Going with a 10ft trailer, however, might limit your options in the future if you decide to change or upgrade your side-by-side. A 12ft trailer will keep the possibilities open, and if weight is a concern, aluminum trailers like those by Aluma and Triton are incredibly lightweight – albeit quite pricey as well.
Enclosed Trailers Vs Flatbed Trailers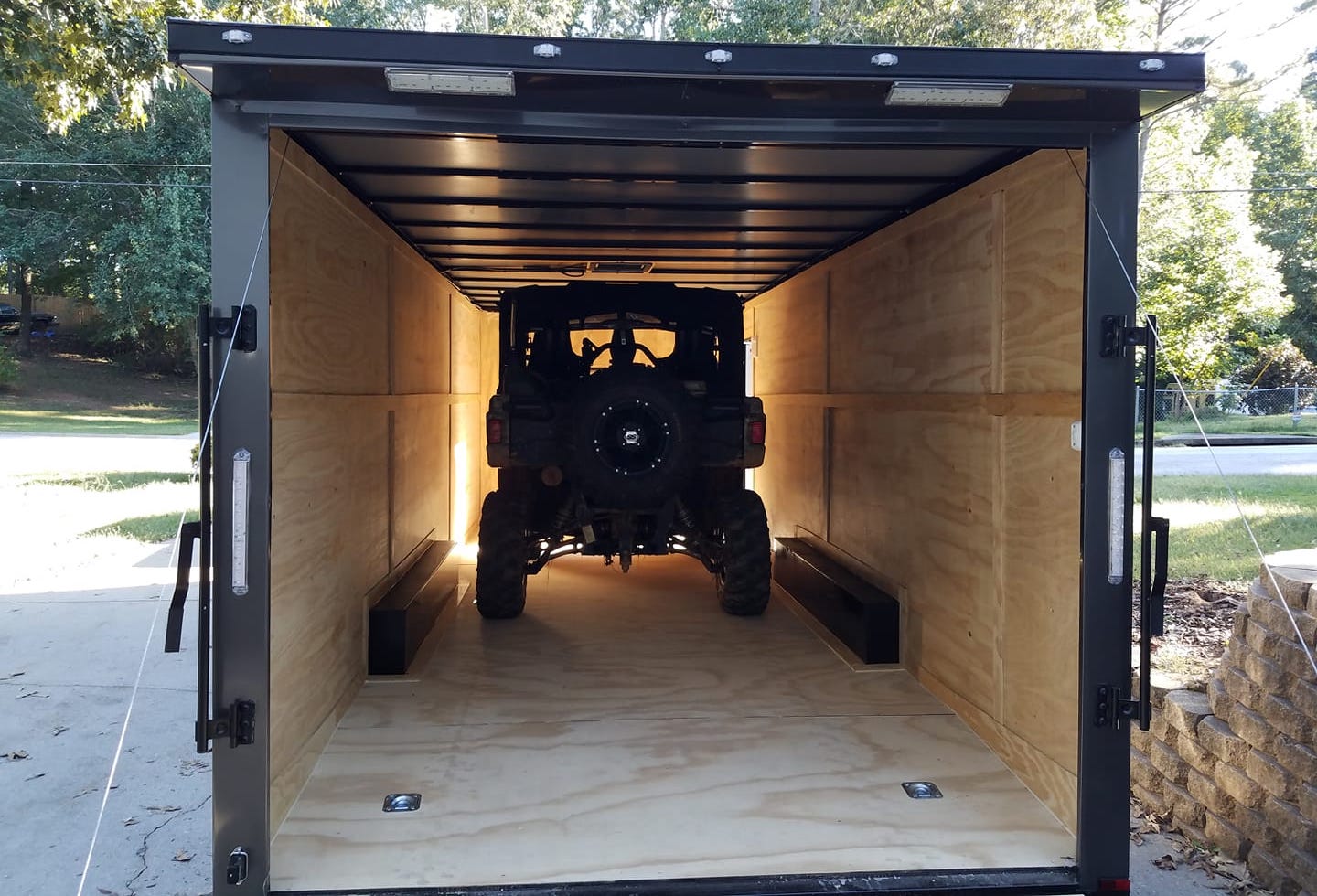 Be it a car trailer, a gooseneck trailer, or a high-sided utility trailer, the most salient drawback to non-enclosed trailers is that they leave your machine (and other cargo) exposed to the elements. You can counteract this somewhat with products like covers, salt shields, and windshield protectors, but you'll be hard-pressed to reach a level of protection commensurate with that of an enclosed toy hauler. With an enclosed UTV trailer, though, you'll definitely want to plan ahead. If you get one that just barely fits your Yamaha Viking VI (at 7 feet high, 6.5 feet wide, and 16 feet long), you'll be pigeon-holing yourself when it comes to future modifications like lift kits, wheel spacers, roof racks, etc. This, however, is something that you must consider with open-air trailers as well. We'd advise getting a trailer that's at least a foot or so wider than your SxS. Not only will this make driving your UTV on and off much easier, but it'll also give you options in the future if you want to install different wheels with a wider offset, aftermarket a-arms that increase the track width, or wheel spacers.
Weight Distribution And Orientation While Trailering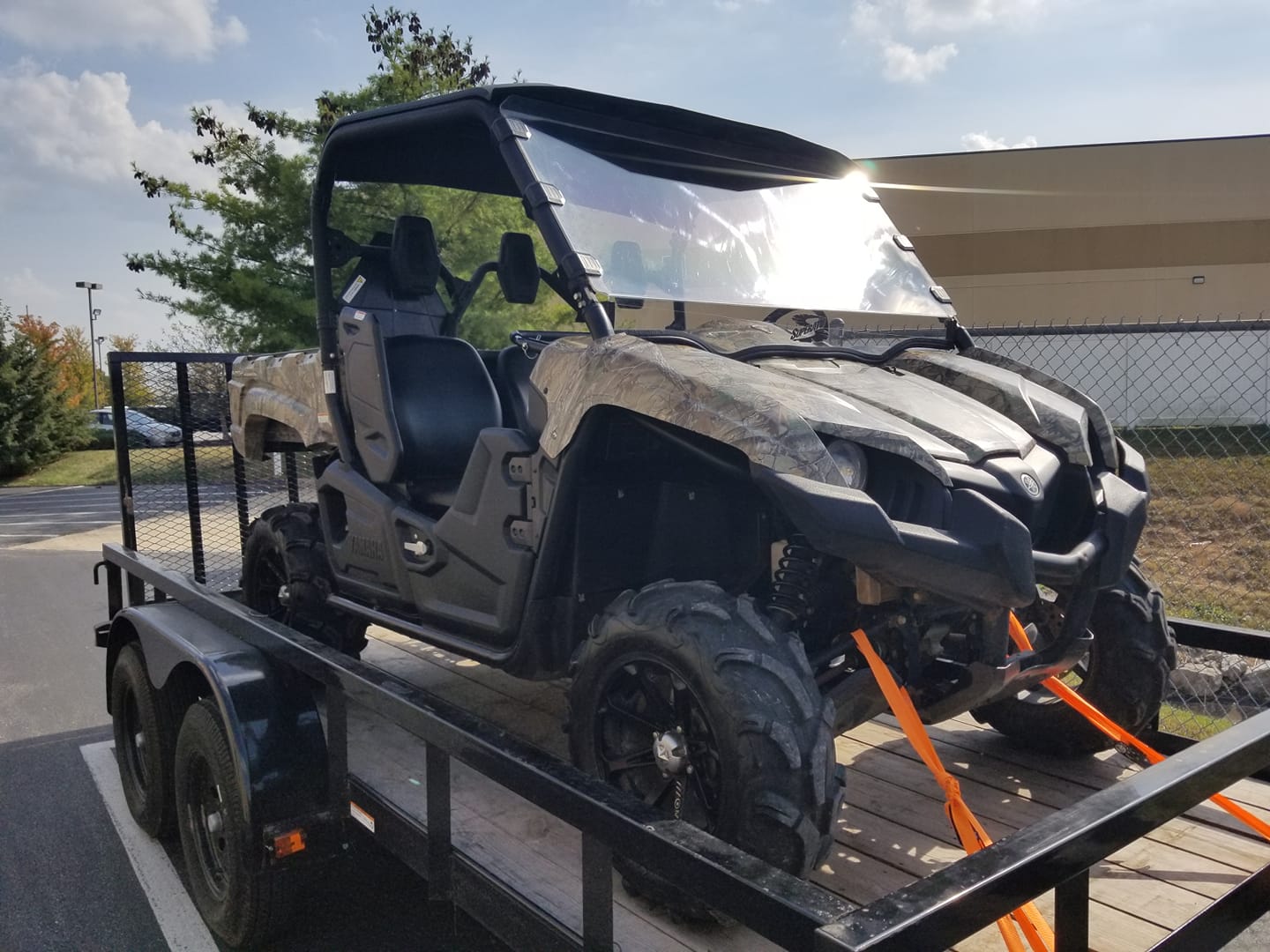 Ideally, you want to have your Yamaha UTV as far forward as possible on the trailer during transit. By doing this, you're achieving the ideal weight distribution, which is 60% of the load in front of the trailer axles, and 40% behind it. Sufficient weight is required to push down on the tongue of the hitch receiver, and if you overload the stern section of the trailer, you'll be more prone to fishtail at lower speeds.
Hauling the UTV backwards is also something that many riders swear by. With the Yamaha Viking in particular – and especially vehicles with OEM windshields installed – the chances are high that the windshield will develop a crack at the center / top area that resembles a V shape. For this reason, aftermarket Yamaha Viking windshields like the flip-up option by SuperATV are built with metal bars that span the length of the windshield to prevent it from cracking. Although this bar does interfere slightly with your field of vision when the windshield is closed, most riders report that they get used to it after a short period of time.
Proper Tie-Down Measures And Favored Tie-Down Methods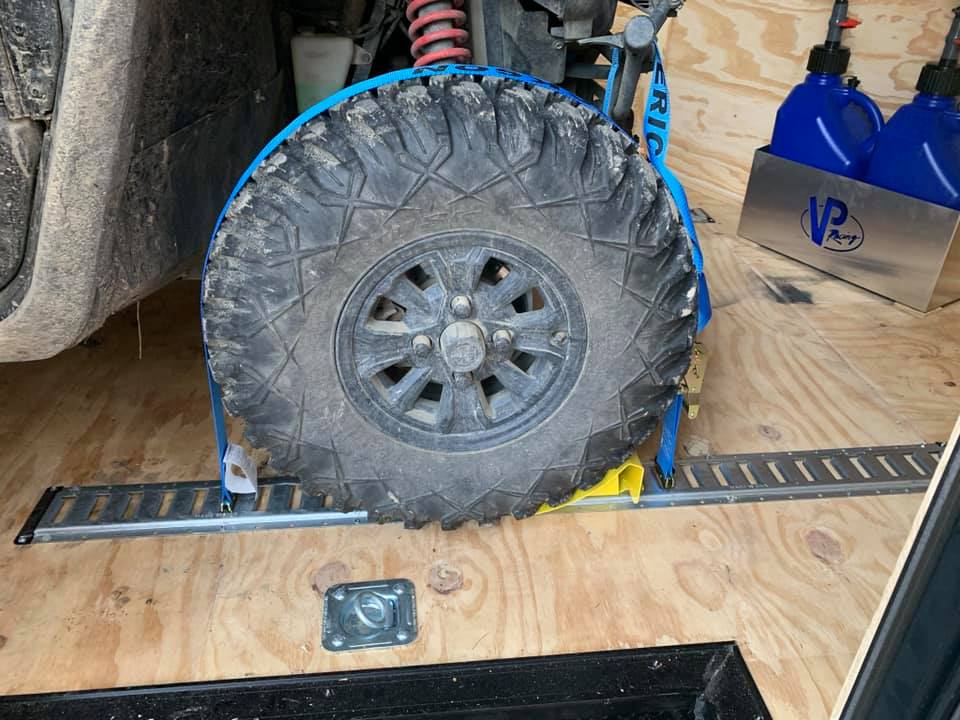 There are several solid methods that Yamaha UTV owners can implement to secure their side-by-sides while trailering. The go-to method is to simply hook a ratchet strap to each corner and cinch 'em all down till they're nice and taught. We've seen some folks using the winch on their machine to secure it for transport, but we don't advise this as it causes premature wear and can damage the winch's gearing – especially those with planetary gear systems.
A popular alternative to ratchet straps are wheel straps / tire bonnets. These attach to anchor points like eyelets, loops, or e-track systems on the side or surface of the trailer, and then wrap around the tires to prevent movement in all directions. This is the technique of choice for big-time automobile transporters, as it maintains the functionality of the vehicle's suspension system so that it can continue to absorb shock during transit. Some wheel straps are just that… straps. Others, however, are more like nets / bonnets that envelop the entire upper surface of the tire to eliminate any potential for slippage.
Another way that riders lock their buggies in place during transport is through the use of Kolpin Powersports' Lock-it-Rite UTV Trailer System. This product mounts to the upper deck of the trailer, securing the 4x4 with a trailer-coupler-like device that articulates around the machine's hitch ball to prevent it from moving. Not only is this faster and stronger than straps alone, but you can also quickly remove the upright arm of the device when you're using your trailer for other applications. One caveat with the Lock-it-Rite system is that you need to have a hitch receiver on your bike with a 2" tow ball.
Popular UTV Trailer Brands Used By Yamaha Side-By-Side Owners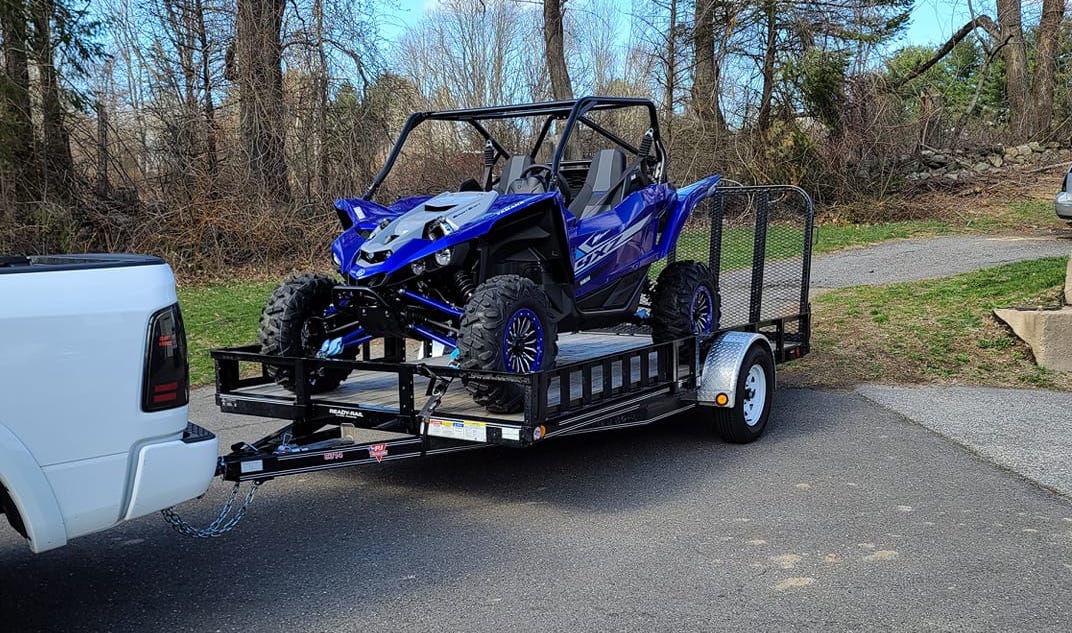 We mentioned Aluma trailers and Triton trailers earlier, but there are many more high-quality UTV trailer brands out there that make awesome trailers for the Yamaha Viking, YXZ, and Wolverine! For enclosed trailers, you've got the 7-foot by 23-foot V-nose Thunder trailer by Legend, which has a 7-foot-tall interior roof height and a front ramp door so you can access / strap down the front without having to shimmy from one end to the other along the sides. The Cargo Sport trailer by Criterion is another good enclosed trailer, and with a Stealth 8x20 enclosed car hauler, you can easily fit a lifted Yamaha Viking sitting on 28x10x14 tires / rims and still have a couple inches of clearance at the door overhead.
For non-enclosed trailers, the 7x14 and 8x16 Carson Utility trailers are both well suited to haul Yamaha side-by-sides, and Vimetal trailers are also burly enough for any off-road endeavor! If you want enough room to stand beside your UTV while it's on the trailer (so that you can get in and out with minimal flack), 78-inch-wide trailers are perfect. Or if you're looking for something inexpensive, a 6x12 Sterling trailer is more than sufficient for most.
Final Things To Consider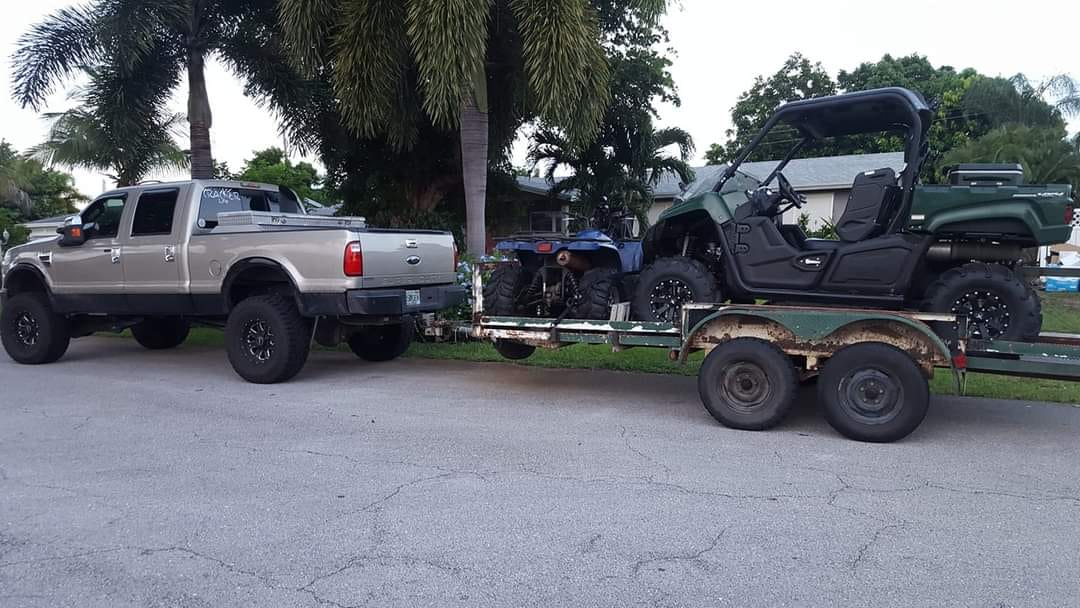 If you're only hauling a single side-by-side, a smaller trailer should do the trick. But if you're planning to carry multiple UTVs, a UTV and an ATV, or other toys like dirt bikes / motorcycles, you'll obviously want a longer trailer with more capacity. In addition to the trailer itself, you should also think about how you'll load your machine(s). Most high-end trailers come with either fold-down loading ramps or slide-out loading ramps, but not all trailers come with ramps. Aluminum bi-fold ramps are perfect for loading Yamaha UTVs, and if clearance is an issue, arched ramps will make it so you don't scrape your rig's undercarriage while driving onto and off of the the trailer.
For those with side-by-sides that never leave private property, a UTV trailer might not be required. And for those with street legal side-by-sides, trailers might only be needed a couple times a year for long-distance adventures. But for everyone else, trailers – as well as vehicles to pull them – are integral aspects of side-by-side ownership!