​Yamaha Side-By-Side Sound Systems: Which Audio Setups Offer The Best Bang For The Buck?
Jul 31st 2022
If you're stalking wild game in your Yamaha side-by-side, chances are you'll want to stay stealthy and quiet as can be. But if you're doing work around the farm in your Yamaha Wolverine RMAX, trail riding in your Yamaha YXZ 1000R, or camping with the family in your Yamaha Viking VI, having a sound system, a stereo unit, or an off-road audio setup can bring countless hours of joy, entertainment, and delight. Those tedious tasks will become far less boring with a Yamaha Wolverine sound bar, and you'll get extra pumped before a drag race or hill climb with your Yamaha YXZ audio kit bumping at full volume!
There's a lot to consider, however, when looking into complete sound systems and audio equipment for the Yamaha Viking, Wolverine, and YXZ. Cost is undoubtedly a large factor, but so too is sound quality. You don't want some cheap speaker setup that cuts in and out, nor do you want excessive amounts of static or white noise. Furthermore, if your UTV audio system gets drowned out by the sound of wind, your engine, or your exhaust, it'll be a net-negative accessory that contributes weight to your ride and little else. So which audio setups offer Yamaha UTV owners the best bang for their buck? Let's find out shall we!
Sound Bars For The Yamaha UTV Lineup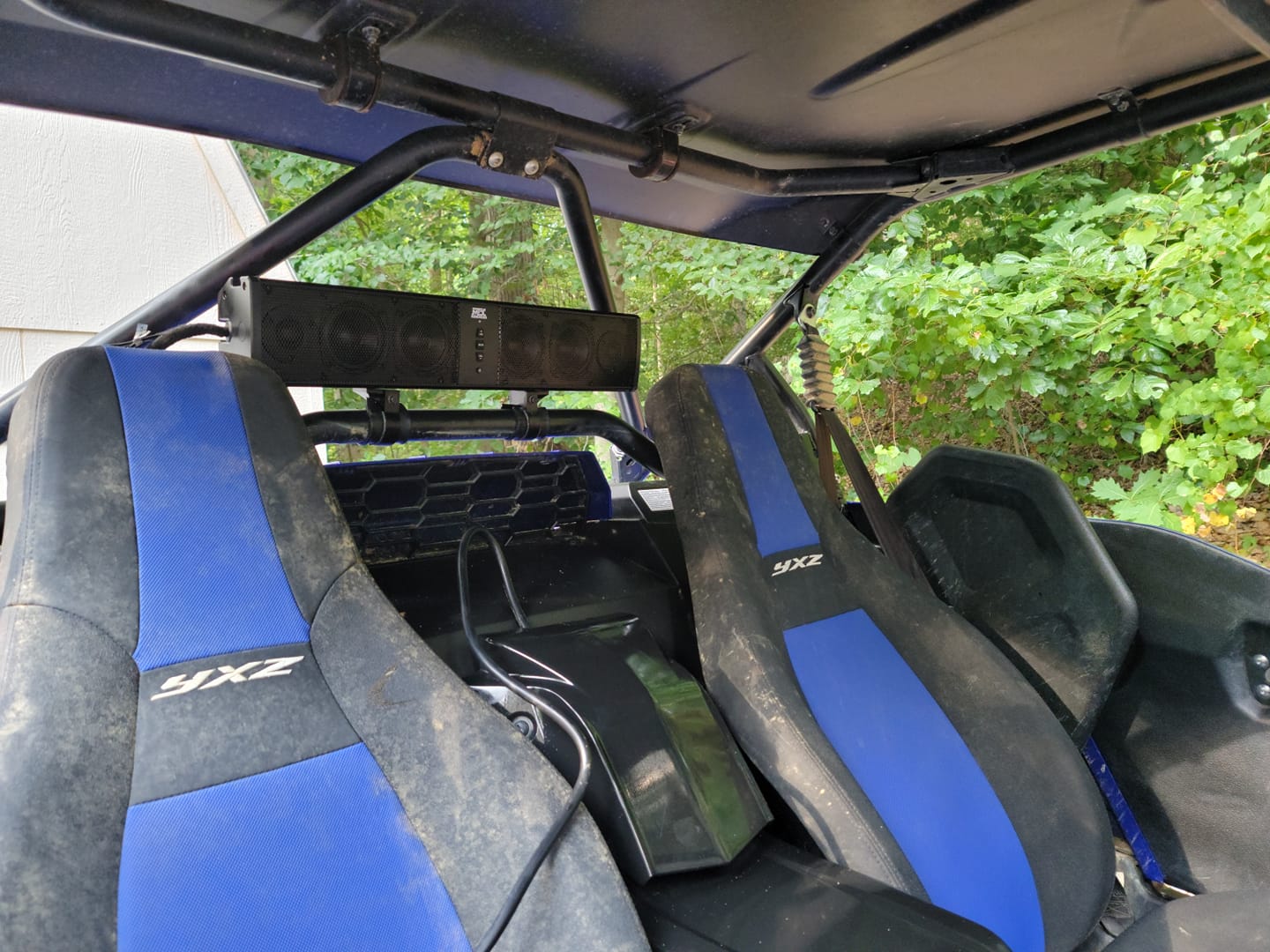 Aside from portable speakers, Yamaha Wolverine, Viking, and YXZ sound bars are the easiest type of sound system to install. They're made by various brands, ranging from JBL and Boss to MTX Audio and Wet Sounds. And because of this diversity, you can find basic UTV sound bars, amplified sound bars with small subwoofers included, and even overhead sound bars for Yamaha side-by-sides with built-in dome lights and GoPro mounts!
One of the best-selling and biggest-bang-for-the-buck UTV sound bar out there is the 4-speaker unit by MTX Audio. These, as well as their 6-speaker sound bars, are super easy to install using a single wire harness with 12-volt power, ground, and ignition wires. And if you want to add a sub to your MTX Audio sound bar for more kick, this can be done easily at any point in the future. Many folks also have good things to say about the Wet Sounds Stealth 6 sound bar. Its plug-and-play installation is a simple positive and negative hook up, and it comes with a remote wire as well as input / output RCAs.
Some riders don't want anything on their ignition wires, choosing instead to wire their sound bars to a switch. Alternatively, you can piggyback into the terminal fuse, get a wire harness that attaches to the cigarette plug wiring, or you can tap into the blue helmet light wire.
Complete Yamaha Side-By-Side Sound Systems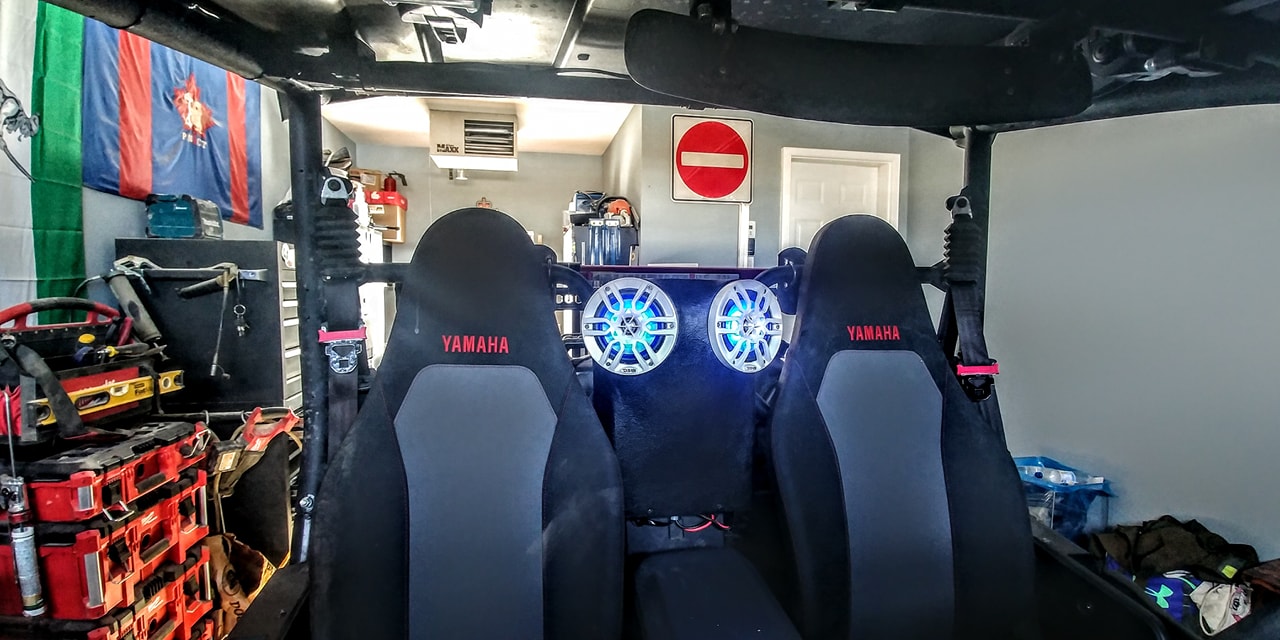 If you really want to jam while riding, full-blown audio systems with surround sound and high-decibel / high-fidelity output are readily available. You can buy the various audio components – like waterproof amps, subs, and marine-grade speakers – for your UTV sound system separately, but complete Yamaha side-by-side audio kits exist that take all the guesswork out of things.
Rockford Fosgate sound systems – be it the Stage 1, 2, 3, 4, or 5 – will perform exceptionally well in any Yamaha UTV. The Stage 5 setup by Rockford Fosgate consists of the head unit, four front speaker pods, two rear speaker pods, a 10" subwoofer, and a 1,000-watt amplifier. Although the price tag is high, you definitely get what you pay for with a sound system by Rockford Fosgate!
Things To Keep In Mind When Choosing A Yamaha UTV Sound System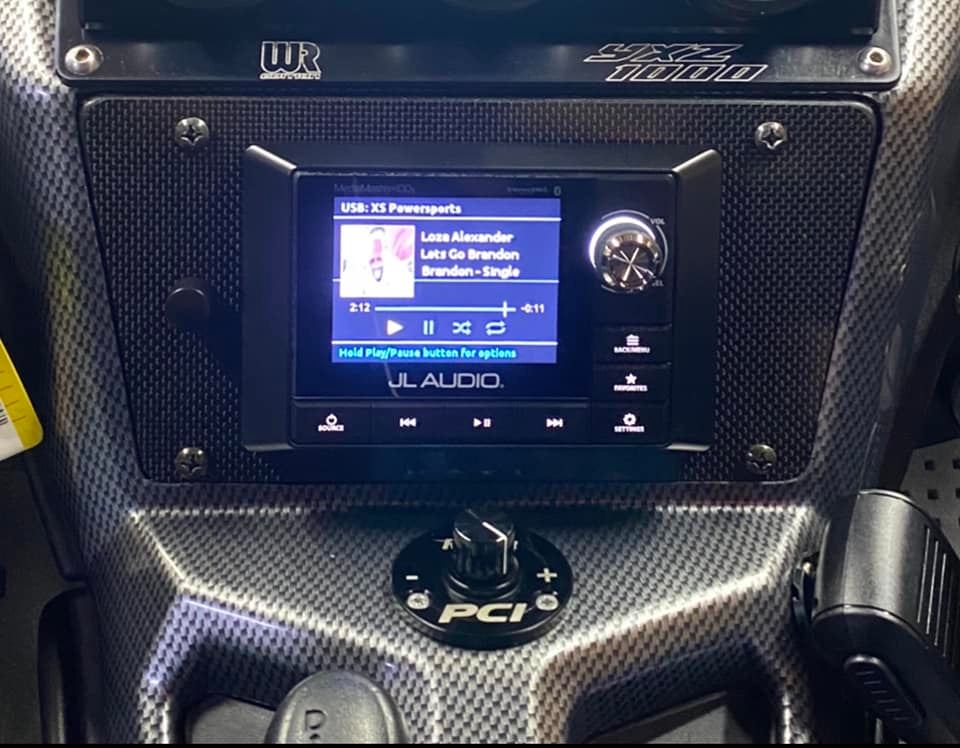 Whether you opt for an amplified Yamaha Viking sound bar, a decked-out Yamaha YXZ audio roof, or a couple 6.5" speakers with a small under-seat subwoofer for your Yamaha Wolverine, there are several factors to consider when shopping around for an off-road sound system. Due to the high noise volumes associated with off-roading, voice activated audio kits are impractical for most. At the same time, however, you might not want to clutter up your dash with a receiver screen or multimedia control unit. Furthermore, you probably don't want to reach up and around to push the volume / skip-track buttons on your sound bar all the time; and if you don't want to control your audio setup with your smartphone, you'll definitely love products like the Bluetooth Rocker Switch Controller by MTX Audio. These controller devices fit perfectly in the vehicle's rocker switch slots, and their simplistic design cuts out everything but the basics!
The right audio setup for you will also depend on your desired input method. Bluetooth connectivity is standard these days, but most sound systems for the Yamaha Viking, Wolverine, and YXZ also come with a 3.5mm AUX jack. Or if you ride in flat areas with signal and minimal tree coverage, you can find audio kits with radio receivers that allow users to jam to their favorite local radio stations!
Where aesthetics are concerned, many riders find that having zip-ties all over the place gives their machine a cluttered look. Some Yamaha UTV owners choose to hide their stereo wires by running them through black conduit, while others decide to drill holes in their roll cage to run the speaker and power wiring internally – ensuring to put rubber grommets inside the holes so that the wires don't wear down / abrade over time.
For buggies that have undergone minimal aftermarket modifications, power consumption issues shouldn't be a problem. But if your rig is chocked to the brim with energy-intensive accessories, you might need a voltage regulator or even a secondary battery to prevent your sound system from cutting out when you crank the bass!
Whatever you're in the market for, we here at Everything Yamaha Offroad can help. Be it a full-blown audio kit or something simple like earbuds / helmet speakers for personal use, we've got both stereophonic sound systems as well as simple music-playing devices that any Yamaha UTV owner will enjoy!