Yamaha Wolverine Vs. Can-Am Commander: A Comprehensive UTV Comparison
Aug 15th 2023
The market for Utility Task Vehicles (UTVs) offers a plethora of choices to suit different tastes and requirements. Two notable contenders are the Yamaha Wolverine and the Can-Am Commander. Both have proven to be reliable, high-performance vehicles with a strong emphasis on power, durability, and comfort. In this blog post, we'll provide an in-depth comparison of the Yamaha Wolverine and the Can-Am Commander to guide you in your decision-making process.
Performance
Starting with the heart of these machines, the Yamaha Wolverine boasts a potent 847cc DOHC, eight-valve, parallel twin-cylinder engine. Paired with Yamaha's Ultramatic V-belt transmission, it ensures smooth power delivery and superior hill climbing capabilities. The Wolverine features an On-Command 4WD system that offers 2WD, 4WD limited-slip, and 4WD with diff-lock modes to suit varying terrains and conditions.
On the other hand, the Can-Am Commander is powered by a powerful Rotax V-Twin engine with options ranging from 800cc to 976cc, depending on the model. Coupled with a Pro-Torq transmission, the Commander provides impressive torque and excellent throttle response. The vehicle uses Can-Am's Visco-Lok QE auto-locking front differential and selectable 2WD/4WD for versatile handling on different terrains.
Design and Comfort
Design-wise, the Yamaha Wolverine stands out with its aggressive, compact look, full underbody skid plate, and robust steel frame. It provides ample ground clearance of 11.4 inches and features fully adjustable suspension for optimum off-road performance.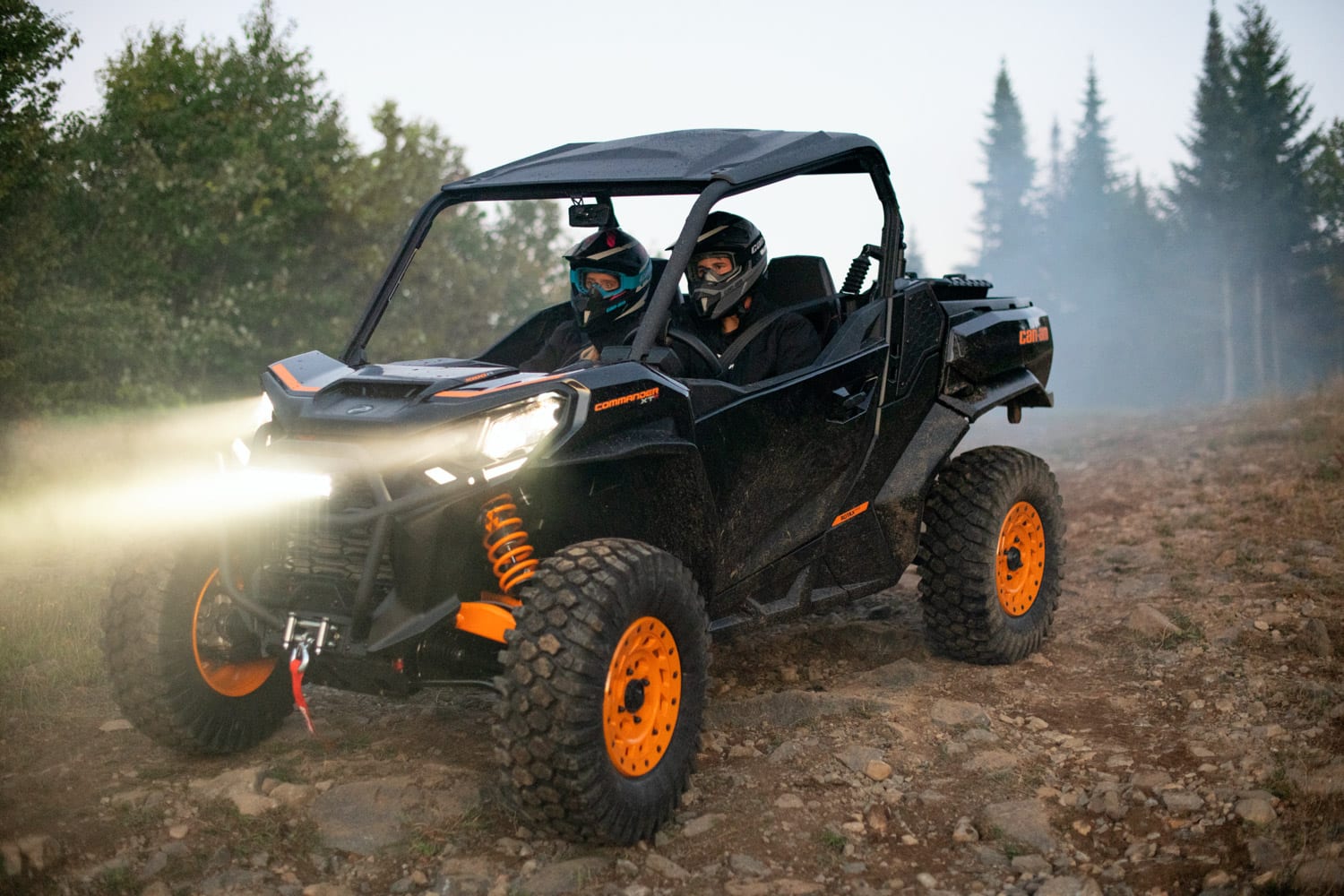 The Can-Am Commander, meanwhile, showcases a modern, sporty design with a sturdy steel cage. It offers a substantial 11 inches of ground clearance and boasts a dual-level cargo box that can hold up to 600 lbs, emphasizing its utility-oriented design.
Interior Comfort and Technology
Inside the Wolverine, you'll find sculpted, high-back seats, an adjustable steering column, and an easy-to-read digital display with all essential vehicle information. Yamaha's Electric Power Steering (EPS) ensures a comfortable, responsive ride.
The Commander, on the other hand, offers high-back seats with enhanced lateral support and adjustable driver's seat. Its Multi-Function Gauge provides crucial vehicle data, and Tri-Mode Dynamic Power Steering offers tailored steering response to various terrains.
Price and Value
As of 2023, the base model of the Yamaha Wolverine starts at around $14,499, while the Can-Am Commander has a starting price of approximately $13,199. Both UTVs offer higher-end models with additional features at various price points.
Although the Yamaha Wolverine offers excellent off-road performance and durability, it comes at a slightly higher price. In contrast, the Can-Am Commander provides robust power, versatility, and value for money, making it a popular choice among many UTV enthusiasts.
Conclusion
Both the Yamaha Wolverine and the Can-Am Commander offer robust capabilities, making them excellent choices for off-road adventures and utility tasks. The choice between the two ultimately depends on your specific needs and preferences.
If you're seeking a compact yet potent UTV with advanced off-road capabilities, the Yamaha Wolverine might be your best bet. However, if power, versatility, and utility rank high on your list, the Can-Am Commander could be the right fit.
We recommend that potential buyers test drive both vehicles if possible to get a personal feel for their performance, comfort, and handling. Regardless of your choice, both the Wolverine and the Commander promise a thrilling off-road experience. Happy riding!