​The Greatest Hits To Play While Tearing It Up In Your Yamaha Side-By-Side
Mar 20th 2023
It has been said that if you can hear music while riding your Yamaha UTV, you're going to slow. On the other hand, it has also been said that if you play songs that are too good, you'll be more likely to break your machine. But we here at Everything Yamaha Offroad say, to each their own, and if you like to jam tunes while you ride, by all means do so. Some riders are a little bit Country, while others are a little bit Rock-And-Roll. But regardless if you like to keep things peppy and cheerful when winding through mountainous trails in your Viking VI, if you roll to Rap and Hip-Hop on straightaways in your YXZ 1000r, or if you prefer playing timeless classics when running errands or getting your hands dirty when working with your Wolverine RMAX, here are the greatest hits to play when operating in and around your Yamaha side-by-side!
Best Songs To Keep It Country While Riding
In some jurisdictions and with the appropriate street legal accessories, it's possible to ride side-by-sides within city limits. But for the most part, UTV riding is not a pastime enjoyed by city boys. While it's true that not everyone who lives in the country enjoys country music, and there are plenty of city slickers who listen to the genre, stereotypes are sometimes true. So if you're a fan of Classic Country, Country Punk, or Country Rap, the following riding songs will fit right in to your off-road playlist!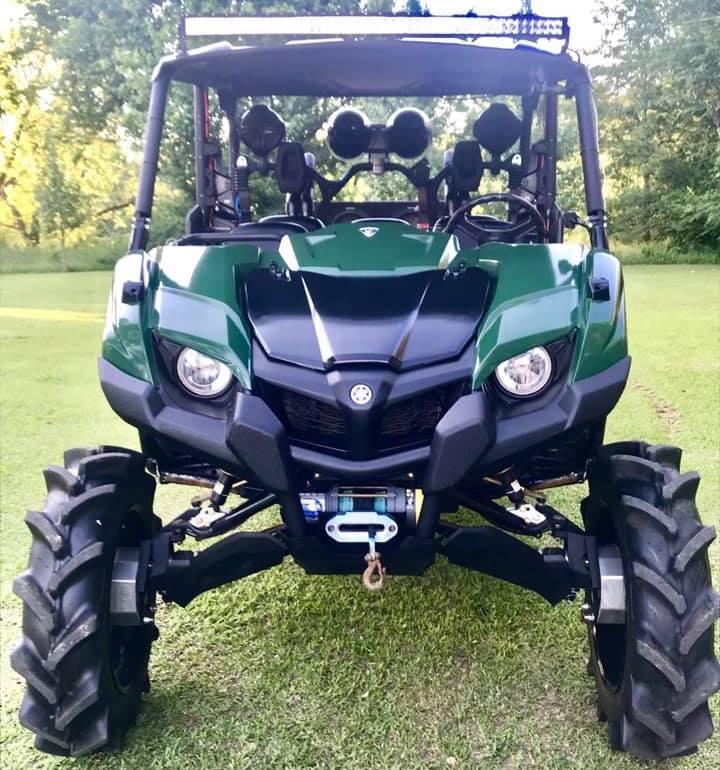 The Race Is On by George Jones
Bubba Shot The Jukebox by Mark Chesnutt
Elvira by The Oak Ridge Boys
I'm a Ramblin' Man by Waylon Jennings
Amarillo By Morning by George Strait
Tulsa Time by Don Williams
Homemade by Jake Owen
We Back by Jason Aldean
The Git Up by Blanko Brown
Body Like A Back Road by Sam Hunt
Night Shift by John Pardi
Down To The Honkytonk by Jake Owens
Caught Up In The Country by Rodney Atkins
Rednecker by Hardy
Great Day To Be Alive by Travis Tritt
Best Songs To Keep It Old School While Riding
The good ol' days were great for some, and even better for others. And the longer time goes on, the more Millenials and Gen Z riders you'll encounter blasting their new-age tracks on the trail. We don't discriminate based on age here at Everything Yamaha Offroad, and we know several youngsters who can appreciate the classics. No matter if you're a Boomer or a Zoomer, those who love early rock and old-school classics will love the following tracks!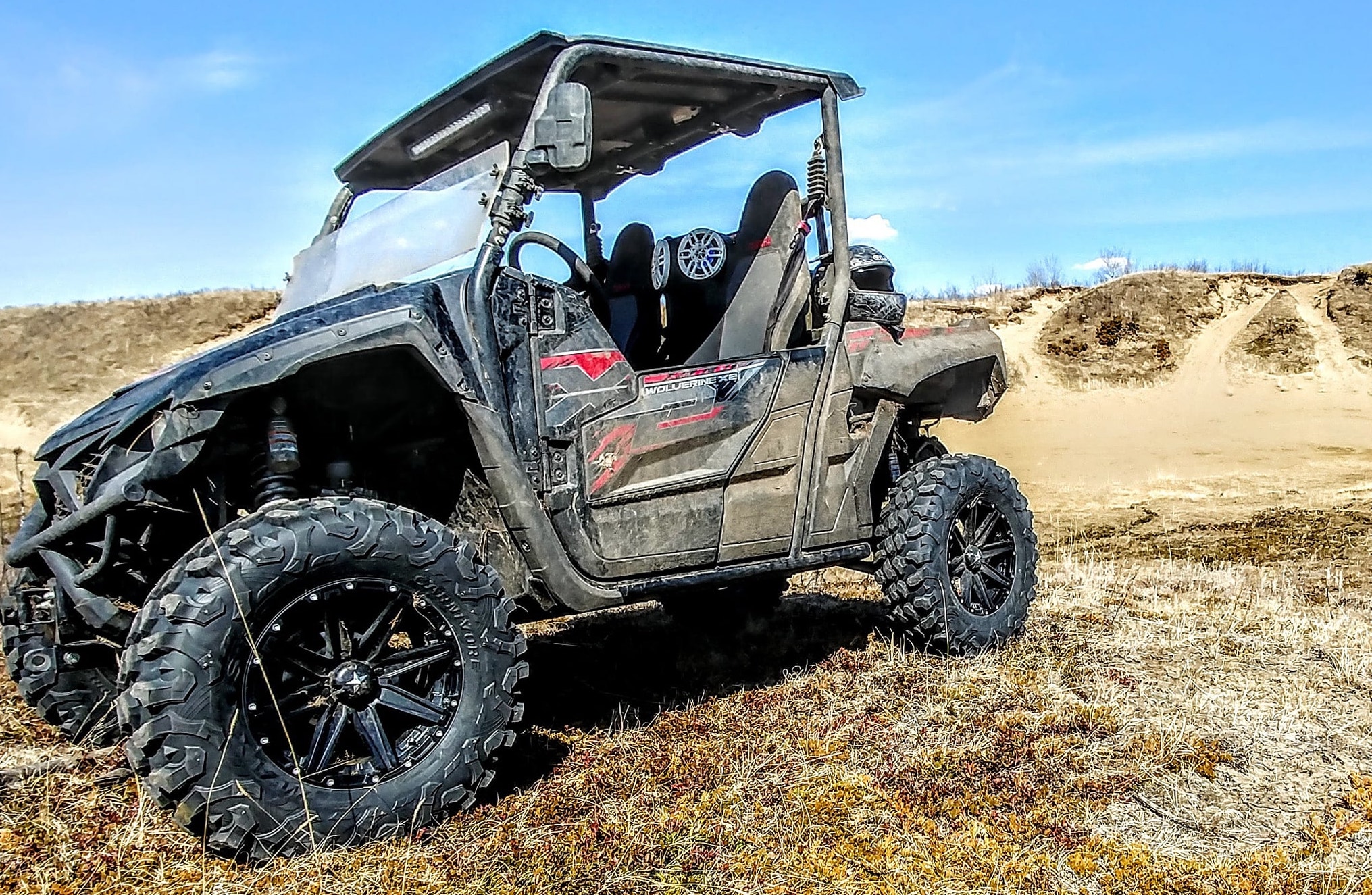 Start Me Up by The Rolling Stones
T.N.T by AC/DC
Wish You Were Here by Pink Floyd
(Don't Fear) The Reaper by Blue Oyster Cult
Mississippi Queen by Mountain
Feel Like Makin' Love by Bad Company
Rock and Roll All Nite by Kiss
Mama, I'm Coming Home by Ozzy Osbourne
Nothin' But a Good Time by Poison
Live and let Die by Paul McCartney and Wings
Best Songs To Rock Out To While Riding
You don't have to own a Yamaha YXZ to go fast when riding, and you don't have to play Rock when the pedal is to the metal. But if you like it hard and you like it loud, the following Post Grunge, Hip-Hop Rock, Thrasher and Nu Metal songs are sure to mesh with your musical preferences!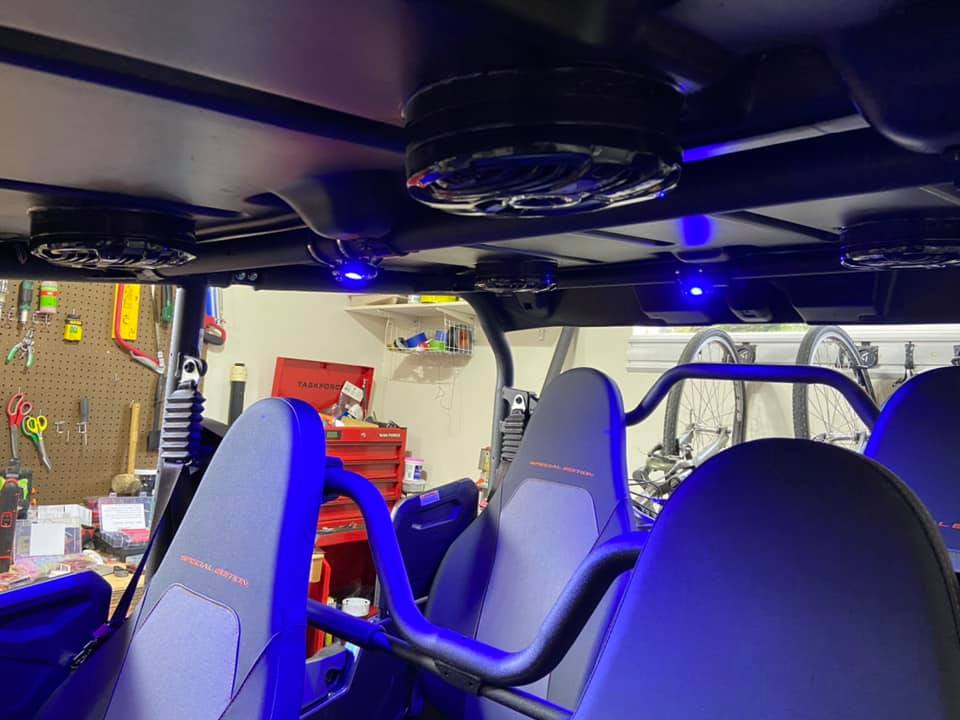 Walk by Pantera
Jekyll and Hyde by Five Finger Death Punch
Fake It by Seether
Break Stuff by Limp Bikit
Smokin' In The Boys Room by Motley Crue
Renegade by Styx
No Sleep Till Brooklyn by Beastie Boys
Coming Undone by Korn
Last Resort by Papa Roach
Hey You by Disturbed
How To Play Music When Riding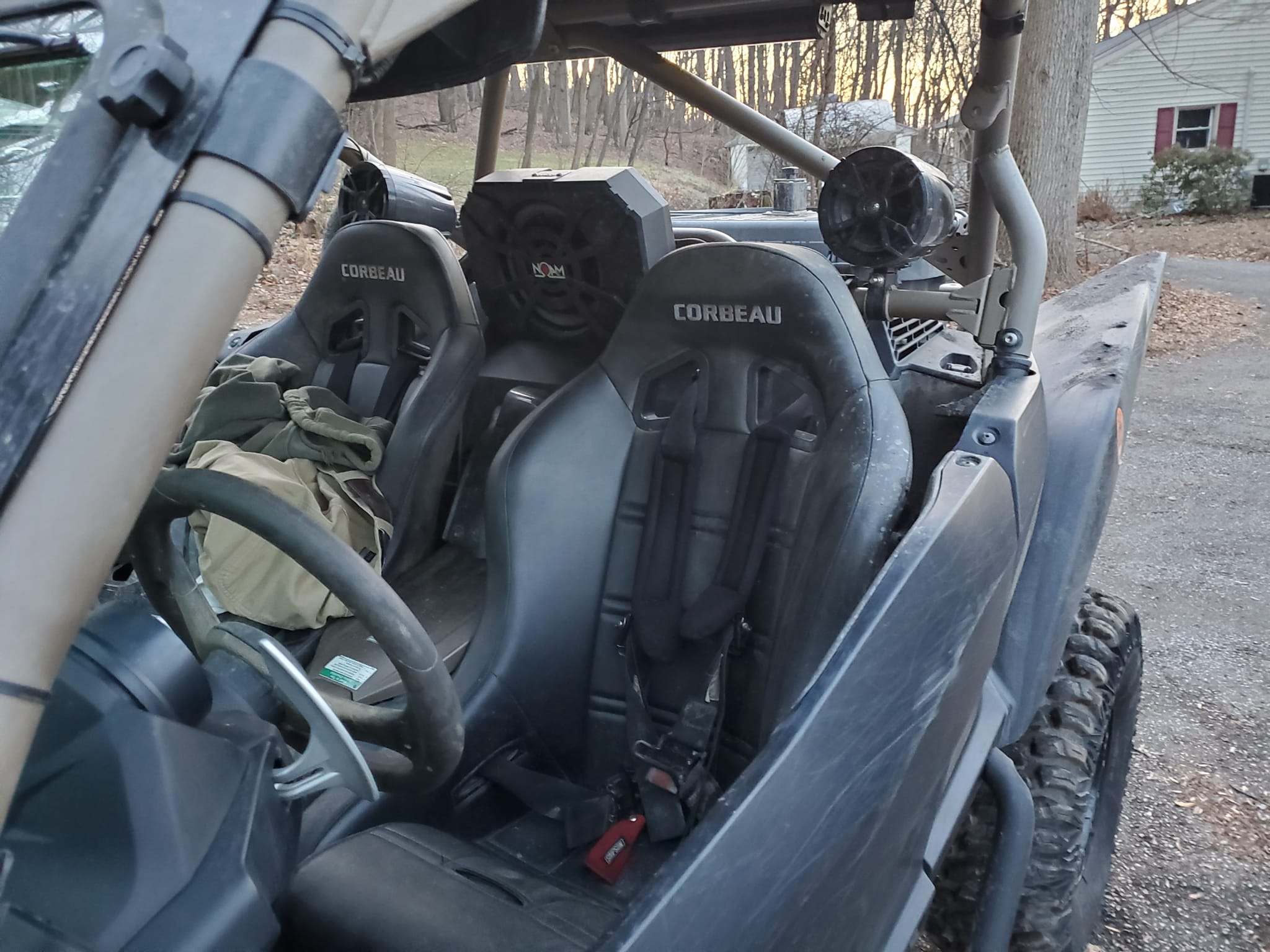 The physical audio hardware required to play music in the field varies from simple sound bars and stereos to audio kits and sound systems with all the bells and whistles. On the software side of things, the options are equally numerous, ranging from YouTube Premium and Pandora to Apple Music, Amazon Music, and Spotify.
Whichever music software you decide to go with, make sure to download your playlist before you embark. Even if you're not in the middle of nowhere and always have cellular connectivity, buffering can be an issue, and slow loading times are frustrating to say the least.
With Pandora Premium, you can save offline playlists, and we've found that the algorithm has changed so that songs don't repeat as much. This problem of songs repeating is now a problem on Spotify – particularly when you're playing songs on shuffle. To avoid this, you can close the app and reopen it again, or you can set up longer playlists and turn the shuffle setting off. If you like your songs, though, you might not mind hearing them more than once while riding. On the other hand, if you're sick of your current riding playlist, make sure add the aforementioned tracks to your existing ones, then drive on and vibe on!