Must-Have Overlanding and Camping Accessories for your Yamaha YXZ, Wolverine and Viking!
Mar 10th 2022
Yamaha side-by-side owners tend to have one thing in common: they love the outdoors. And what better way to spend time outdoors than camping, right?
Although most of us are used to packing up our cars and trucks with gear to go camping, it turns out our favorite UTV's are just as, if not more capable, of doing the job. Thats why today we are going to talk about what you need to take your Yamaha YXZ, Wolverine or Viking overlanding and camping!
Before we get into the good stuff, though, let's cover our bases. Here are a few of the smaller essentials for camping you shouldn't leave home without:
Food and Water to last the trip (and extra just in case)
Sunscreen
Bug repellent (super important)
Pots and pans
Plates, cups, forks and knives etc.
Toilet Paper (Do not be caught in the wild without this…)
Trash bags (Leave no trace behind!)
Flashlights
First-Aid Kit
Maps of the areas you'll be in
Board/card games (Sometimes you just need something to do)
Sleeping bag and pillows
Enough clothes to get you through the trip comfortably
Deodorant/toothpaste etc. (those you're camping with will thank you)
Now that seems like a lot of gear, doesn't it? Funny enough, that list could be easily twice as long if we kept going. But what else could you possibly need?
Yamaha UTV Rooftop Tents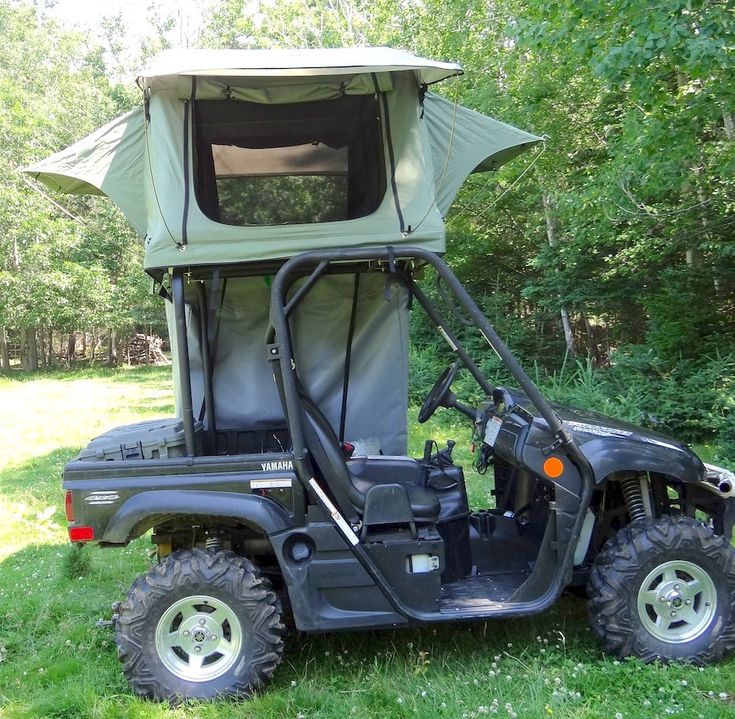 Even the Viking quickly runs out of space once you've got a full load of passengers and their camping gear. But a tent of some sort is going to be one of the most important things you'll bring. Most 2-4 person tents roll up and can fit nicely anywhere on or inside the UTV, but they aren't always the most comfortable or confidence inducing.
Which is what brings us to the world of rooftop tents.
Rooftop tents have been increasing in popularity throughout the overlanding and camping community. Now we even have models such as the Yamaha Viking, Wolverine, YXZ Roof Top Tent by Rough Country that are able to be mounted atop our favorite UTVs.
Crazy, right?
They're super convenient, though. A rooftop tent gives you a large, comfortable shelter that is solidly built and able to withstand high winds, rain and even snow. It gets you and yours up off the ground, helping with the cold temps at night (and keeping the native wildlife or bugs away).
But do you want to know the real kicker?
No tent poles. No guy lines as your only security preventing your tent from flying away. No spring loaded contraptions to figure out. Rooftop tents fold up and away just as easily as they unfolded in the first place. This allows you to leave your campsite as quickly as you like, and not have to worry about trying to fit that dreaded tent back into its bag somehow!
With the all important shelter out of the way, let's move onto food, shall we?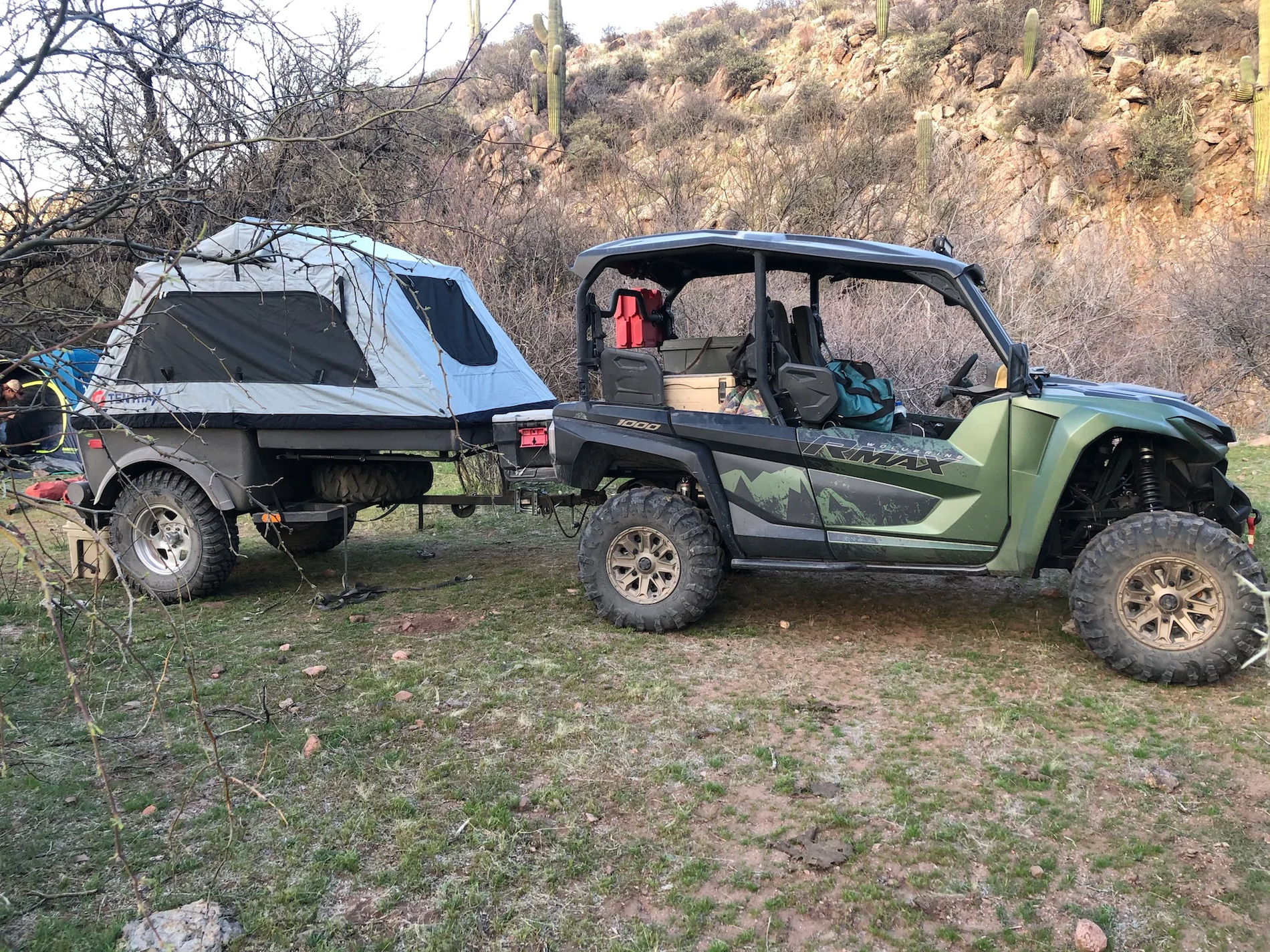 Yamaha Viking, YXZ and Wolverine Coolers
A good cooler is universally known as a necessity for camping and overlanding.
We aren't talking about the cheap twenty-something dollar ones you will find at your local superstore either.
A durable, well insulated and high-volume cooler can help your ice (and food) last for many days longer than one of the cheap alternatives. Models such as the Yamaha 20QT Super-Cooler by Kolpin Powersports do this job handily and help ensure that perishable goods like eggs, meats and dairy products don't go rancid on you.
If you are going to be taking your Yamaha Viking overlanding and camping, however, that could mean your campsite is 50 plus miles from the nearest civilization sometimes. So without a way to get more ice and keep the party going, what can you do?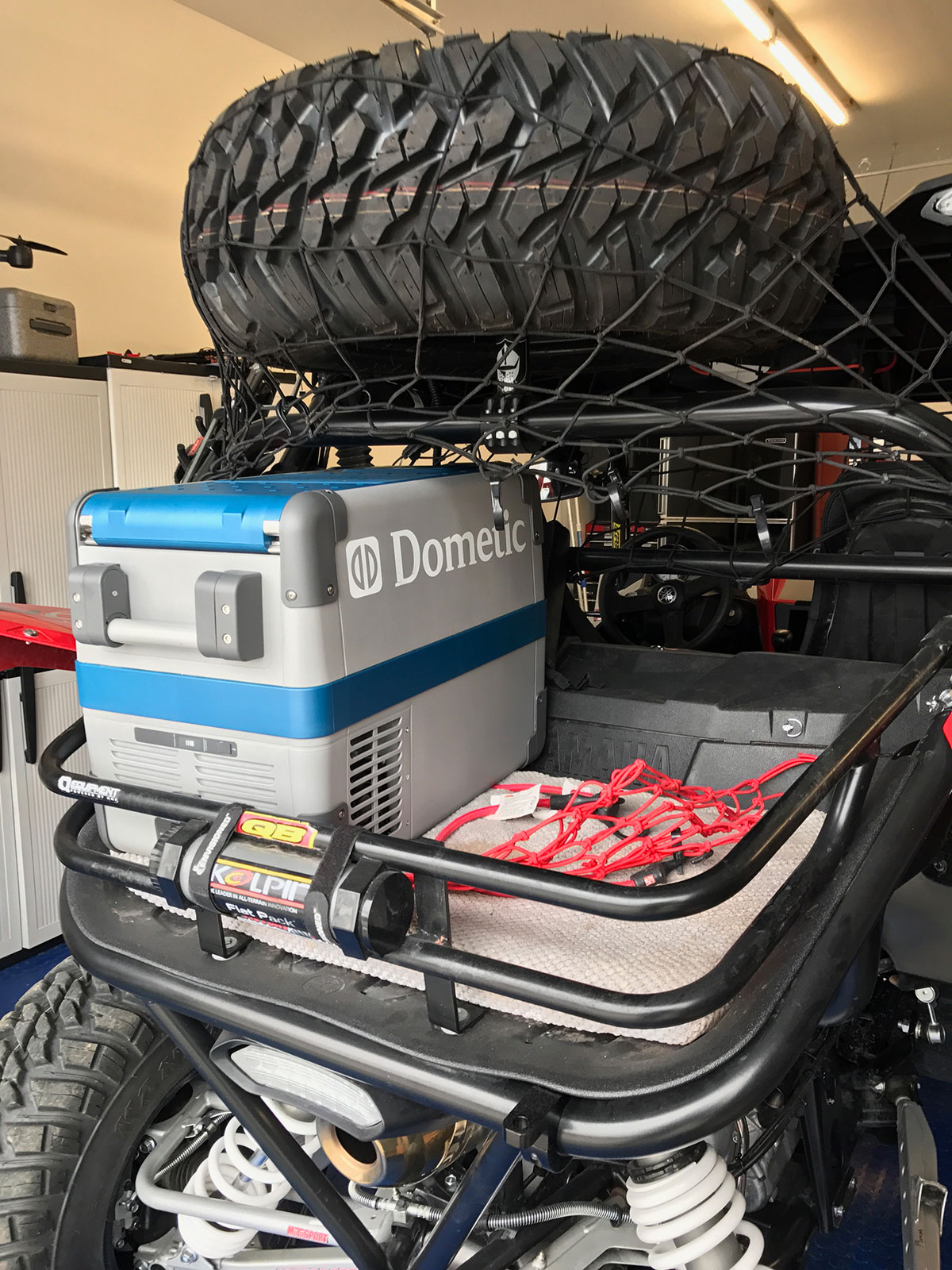 Add a Yamaha Viking, Wolverine, YXZ Portable Refrigerator/Freezer/Cooler by Rough Country instead.
These plug in to your UTVs power supply and work just like a mini-fridge. They're compact, well insulated and efficient at keeping your groceries and drinks cold for the entire duration of your camping trip.
Do keep in mind, however, that this method will use more power than your single Yamaha battery can handle. You will want to add a dual battery kit or Yamaha high-capacity battery to the build so that you don't end up stranded on a cliffside when its time to finally come home from your trip.
More and more overlanding enthusiasts are choosing to go this route due to the reliability of an insulated refrigerator. As long as they aren't opened often, they can keep your perishables cold for days and will resume cooling every time you turn on power to your UTV again.
Yamaha YXZ, Viking and Wolverine Storage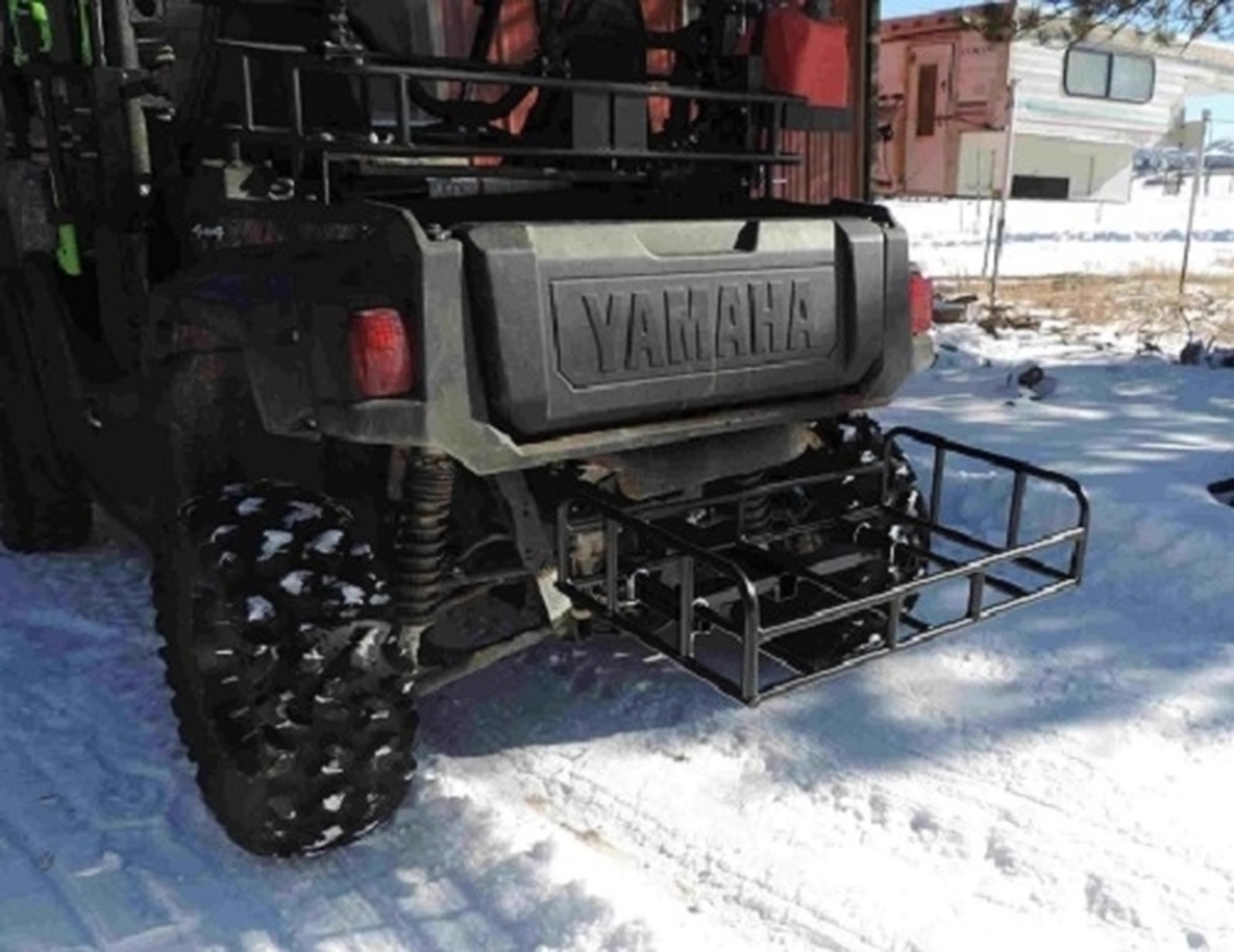 So far, we have covered the fact that you'll be bring a TON of gear with you. But where in the world are you going to put it all?
Thankfully, we've got the answer to this as well with Yamaha UTV roof racks, headache racks, and hitch baskets. Once full of passengers and gear, taking your Yamaha Wolverine overlanding and camping can be rough without something like a Yamaha Wolverine Carrier Basket by Hornet Outdoors.
The same goes for counting on the available space in the Yamaha YXZ for the same reasons -- it having the least available storage space out of all the other models in Yamaha's side-by-side lineup. Adding a Yamaha YXZ Cargo Rack will greatly increase the room you need to fit all of your gear. Even as the ultimate utility machine, taking the Yamaha Viking overlanding and camping will be easier if you add cargo racks and baskets for storage.
All of these Yamaha overlanding and camping accessories add up to an epic upgrade list for your side-by-side. Now there is no reason to risk damaging your daily driver next time you need to get to a remote campsite, right?
Just take your Yamaha Viking, Wolverine or YXZ instead and have the trip you know you deserve!