​The Best Tires For Yamaha Side-By-Sides
Oct 19th 2022
Although you might think that all-terrain tires, mixed-use tires, or general off-road tires would work best for UTVs like the Yamaha Wolverine, Yamaha Viking, or Yamaha YXZ, you'd only be partly correct for such an assumption! A large number of riders never get too rowdy with their rides, and therefore rarely develop a need for specialty tires. For them, the stock Yamaha tires are sufficient. But for riders who predominantly face specific types of terrain, a more specialized tire set might be appropriate. The size of a tire will affect its performance, as taller tires provide more ground clearance, wider tires more traction, and thicker tires more protection against pinch flats, punctures, and sidewall slices. But in addition to size, the style / tread pattern of a Yamaha UTV tire will also factor into its performance. So whether you're considering some 8-ply non-radial tires with a massive load rating, or a set of radial street tires with smaller tread blocks and shallower grooves, here are the best tires for Yamaha UTVs!
Top Tires For The Yamaha YXZ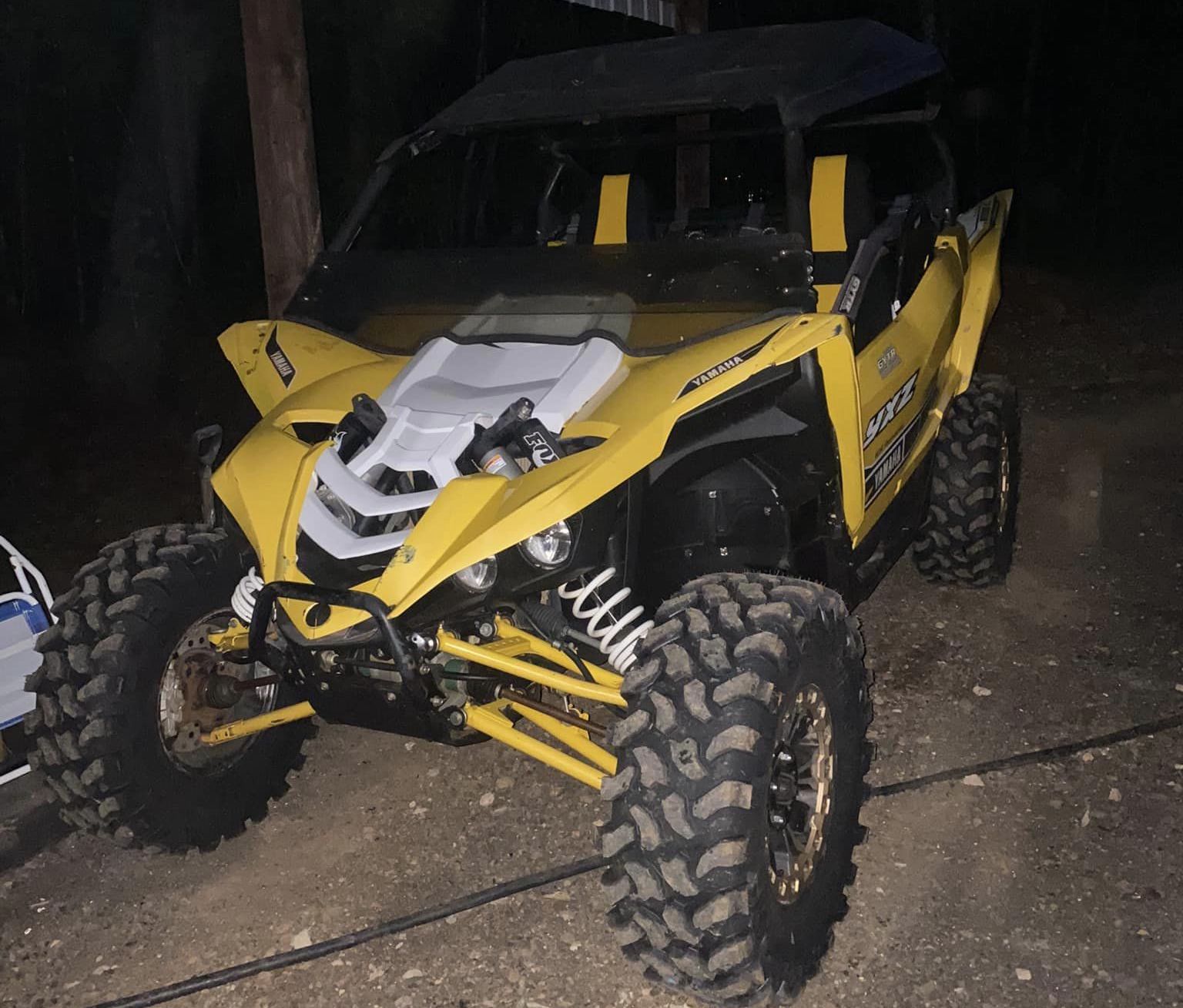 Some riders expect to burn through tires, and therefore go with less expensive Yamaha YXZ tires like the ones by SunF and Sedona. Other riders would rather pay more upfront for tires that are more likely to last longer down the line. Aside from your budget, however, the places you ride should also be considered before popping on a set of aftermarket Yamaha YXZ tires.
Tusk Terabyte tires, for example, do great at places like Hatfield and McCoy. But on rocky PA coal mine trails, Tusk Terabytes will get ripped to shreds in no time flat. For straight rock / boulders, Rockzillas are phenomenal, and for rocky terrain that's extremely jagged, Rockabilly or Trail Saw tires by Sedona are both excellent.
GBC Dirt Commander tires are slightly heavier than the stock Big Horns, and are a super solid option for trail riding. Similarly, ITP Terra Hooks are also game-changing; switch to them and you'll be amazed at how much you were missing out on!
Where Yamaha YXZ paddle tires are concerned, STI Sand Drifters on Method beadlock wheels are a good combo. And for blacktop riders wanting resilient street tires, the LT KM3 tires by BFG won't disappoint!
Top Tires For The Yamaha Viking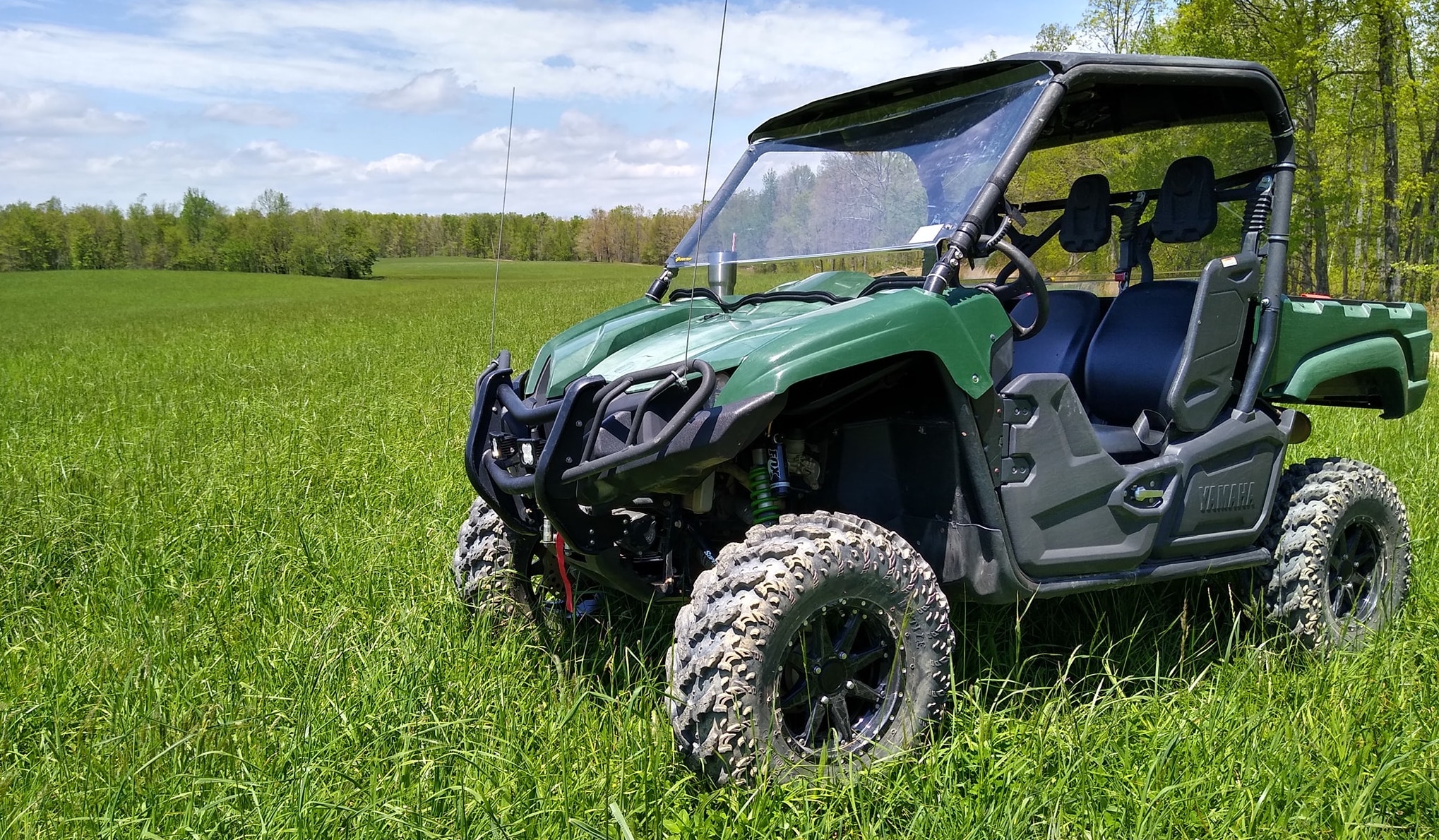 A Yamaha Viking on Tusk Terabytes will perform well on gravel roads, dirt roads, and paved roads, but the BFG KM3s won't wear out as quickly. Kanati Mongrel tires and M1 Evils also perform well on roads, but they perform equally well on rough and rugged trails.
Intimidator tires for the Yamaha Viking are excellent on mud and dirt. They'll take you places in 2WD that you would otherwise have serious issues with in 4WD using the stock tires. But with this amount of grip, you might get a bit cocky behind the wheel, and end up breaking axles by going too hard!
Other good trail-riding Yamaha Viking tires include Maxxis Zillas, ITP Blackwaters, and Interco Reptile Radials. And for both smooth rides as well as unmatched traction on even the nastiest of peanut-butter mud, BKTs will not disappoint!
Top Tires For The Yamaha Wolverine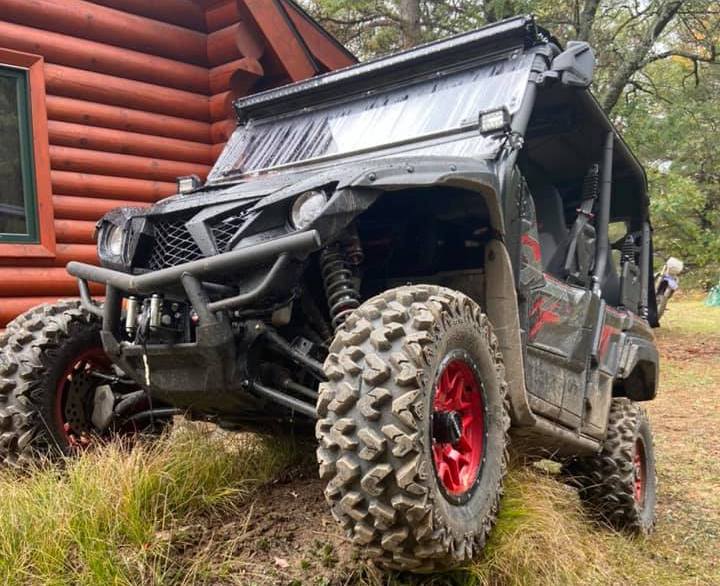 Many of the aforementioned tires for the Yamaha Viking and YXZ work equally well on the Wolverine RSPEC and the Wolverine RMAX. Again you have Tusk Terrabites for a smooth ride on tar and gravel roads, as well as ITP Terra Hooks. The latter are basically a newer version of EVO Blackwater tires, only with a sharper shoulder so that they don't push in the corners like Blackwaters do.
Like with the tires themselves, we see a lot of overlap between the best tire brands for the Yamaha Wolverine and the Yamaha Viking / YXZ. We mentioned Sedona tires for the YXZ, but Sedona Coyotes are good for Wolverine owners riding on wooded or dry pack trails. The slightest bit of moisture, however, and Coyotes get packed with muck, requiring a good amount of throttle to clear them out.
Other tires that we cannot fail to mention for the Yamaha Wolverine are System 3 XTR370s, Maxxis Carnivores, and Kenda Bear Claw HTRs. Some of these options are a little on the heavier side, but the traction they provide is phenomenal, and they're tough enough to run without air if you need to limp yourself back home or to your truck at the trailhead.
Tire-Related Tips For Yamaha UTV Owners
Yamaha UTV Sand Tires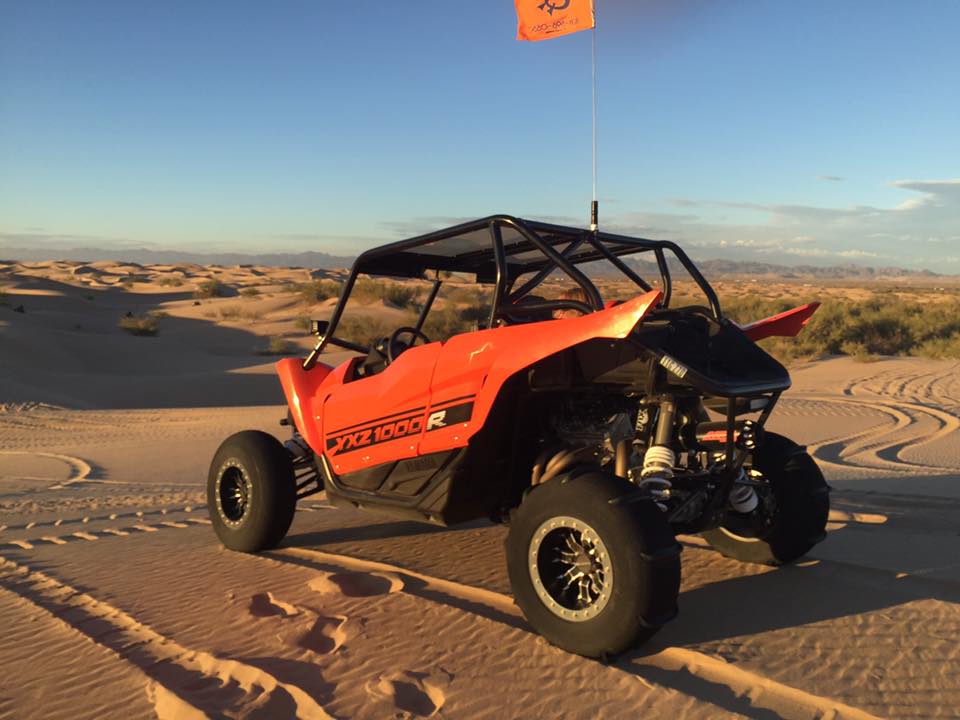 There are a few considerations that one must make when deliberating on a potential set of Yamaha UTV sand tires for the dunes, deserts, beaches, or sand banks. The first factor to consider is the rotational mass. Heavier tires and wheels will rob you of horsepower, so the lighter the better. The second factor is flotation. You want your tires to be set up on wide wheels – 10 inches wide in the front and 8 inches wide in the rear is recommended.
The final thing to consider with paddle tires (and large mud tires or even track systems for that matter) is gearing. If you go too big, you'll have a difficult time even spinning your tires, let alone getting through technical terrain. Up front, a 26x12.5x14 tire is ideal, with a 9-cup paddle tire on the rear – at least for YXZ owners. You'll want to stay away from heavy, tall, and over-cupped tires mounted on narrow wheels. Not only will this rob you of power, but it'll also dig in and cause you to become stuck. Consequently, you'd be better off using aired-down OEM tires! And this brings us to another important topic, Yamaha Wildcat, Viking, and YXZ tire pressures!
Yamaha UTV Tire Pressure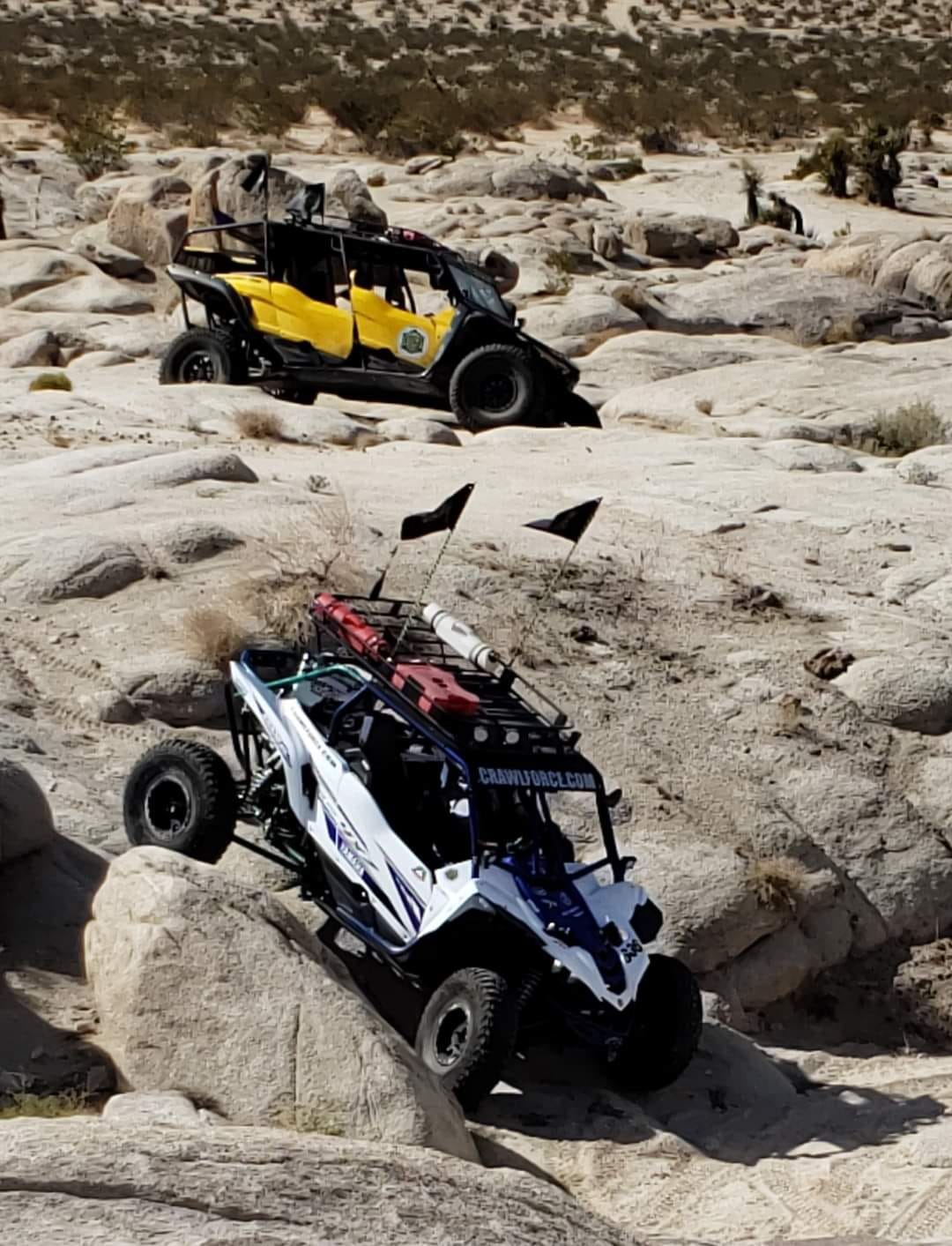 The advised tire pressures for Yamaha UTVs can be found in the owner's manual – the Viking VI, for example, is 21 PSI in the front, and 22.5 PSI in the rear. Deviating from the general-use tire pressures, however, can be beneficial in many instances.
If you ride mostly rocky terrain and have the front shocks adjusted soft as well as the sway bars disconnected, you could do well with a Yamaha Wolverine tire pressure of 10 PSI in the rear and 8 PSI in the front. Nevertheless, the minimum in the manual for the Wolverine X4 is 11 PSI in the front and 13 PSI in the rear, so keep that in mind.
On top of allowing for better performance in mud and on rocks, the tire pressure of your side-by-side can also affect the ride quality of your rig. For on-road riding you'll want to look at your tire crown, and set the air pressure where you have a good flat surface area. This will even out the wear and provide great stability on roads. For the Viking, you shouldn't go over 24 PSI. Higher pressures will raise your ground clearance slightly, and more pressure is advised if you're hauling heavy loads.
A tire that's overinflated will bubble at the area of contact between the tire and road, while an underinflated tire will take away sidewall strength and cause the wheel to "walk in" on the tire. Although run-flat inserts like TIREBLOCKS can allow users to ride on effectively 0 PSI, a comfortable range for any Yamaha side-by-side is 10-12 PSI for good traction, and 14-16 PSI to avoid pinch flats.
Final Notes
That's all we have for you this time. We hope you learned something here and we're more than happy to assist you with further Yamaha UTV tire info and tire suggestions! So regardless of whether it's a set of Yamaha Wolverine tire upgrades that you're after, or just some basic info about the best Yamaha YXZ tire size for your clutch and suspension system, Everything Yamaha Offroad is always ready and eager to serve you in any way possible!