The Best Yamaha UTV Lift Kits and Why You Need One!
May 30th 2022
When it comes to making modifications to your Yamaha YXZ, Yamaha Viking or Yamaha Wolverine, one stands out among the most popular: Lift Kits.
It is easy to understand why, as the nature of use most owners put their side-by-sides through almost demands it. Rough trails, or BLM land that is devoid of trails entirely. Log-strewn trails and even rock crawling trails can all be traversed easier with a lift kit on your UTV.
But how do you choose the right lift kit for your situation?
Let's take a look!
Types of Yamaha Side-By-Side Lift Kits
Once you've grown tired of getting high centered in deeply-rutted trails, or not being able to conquer that rock crawling trail when your friends leave you behind, lift kits are the logical next step.
The most popular, and simple lift kits out there, are those designed with lift brackets and spring spacers. These kits are a relatively simple, bolt-on option that can raise your UTV anywhere from two inches to four inches. Some kits will have even more extreme numbers, but those will nearly always require much more extensive modification to your UTV's drive train to compensate for the increase in height.
In regards to Yamaha side-by-sides, we've found these popular, yet affordable options:
A positive side effect of these lift kits, is they will allow you to also add larger tires.
And what do larger tires mean? An even greater increase in ride height! (Yes, they do look better too). But a lift kit and larger tires can actually lead to a few drawbacks as well, believe it or not.
There is a reason that your Yamaha UTV came with the stock specs that it did. The drive train was only ever meant to efficiently move the machine with the stock suspension, tires and ride height that it came with. So it stands to say that lifting the YXZ, Viking or Wolverine will produce some consequences.
Namely, you will notice a decrease in torque or available power. Thankfully, though, you can counteract this downside with either a clutch kit, or our next lift kit style:
Yamaha Side-by-Side Portal Gear Lifts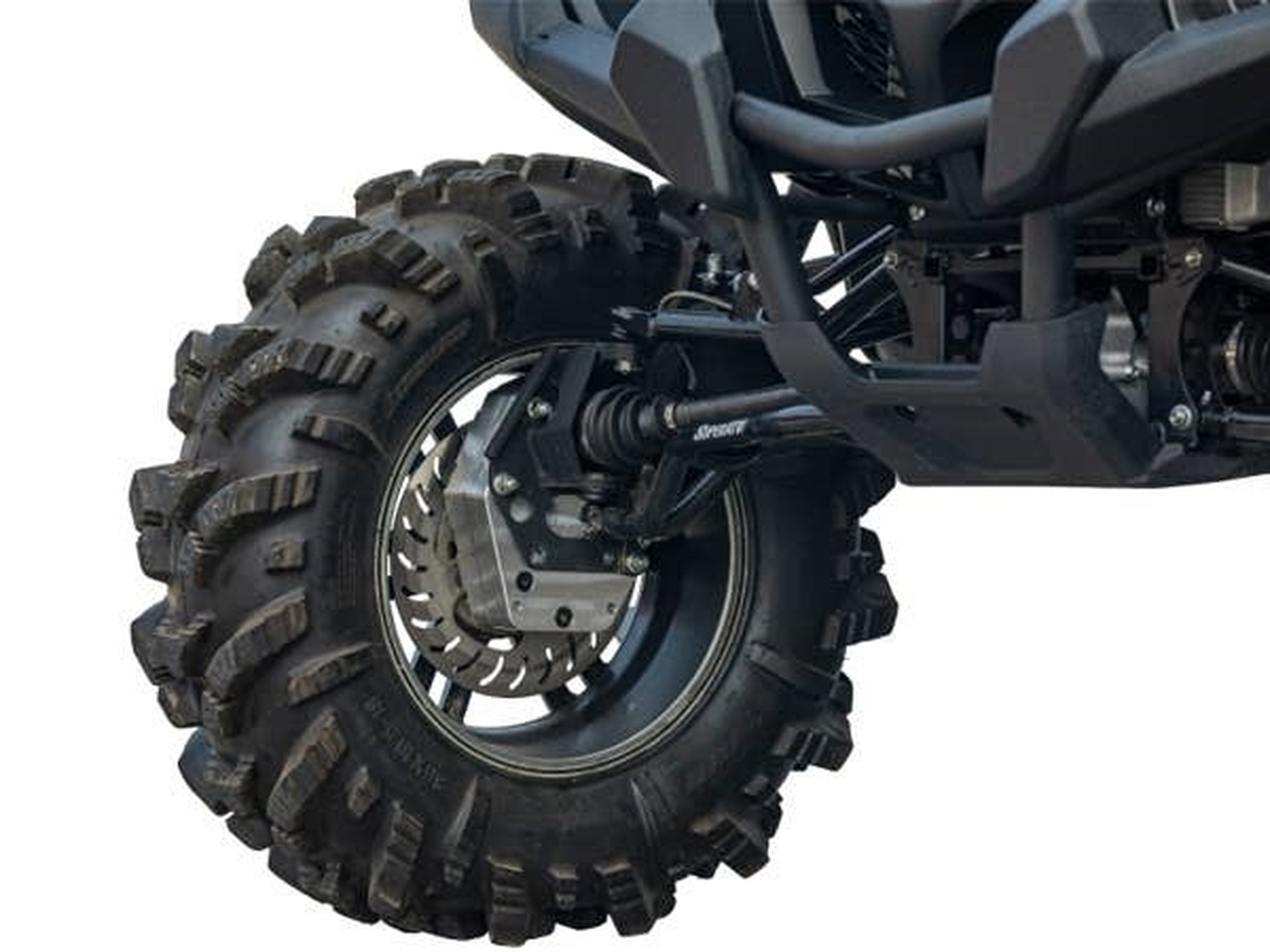 Now, when you hear the phrase 'Portal Gear Lift', you may be confused at first.
I know I was!
It is easier to think of what a portal gear lift does, by thinking of the transmission in your car or UTV. By using a specific set of gears enclosed within a portal case, these lifts are able to redistribute the torque from your drive train to properly propel the UTV forward and backward.
In short, this means that even with larger, fatter tires and a lift kit, your UTV won't suffer from a decrease in torque that it otherwise would have without portals. Not only will you retain factory power specs, but the portal gear lifts themselves increase the UTV's width and height after installation.
All of these perks add up to Yamaha UTV Portal Gear Lifts being our favorite form of lift for just about any situation. And models are available for all of the most popular Yamaha side-by-sides:
Yamaha Side-By-Side Tires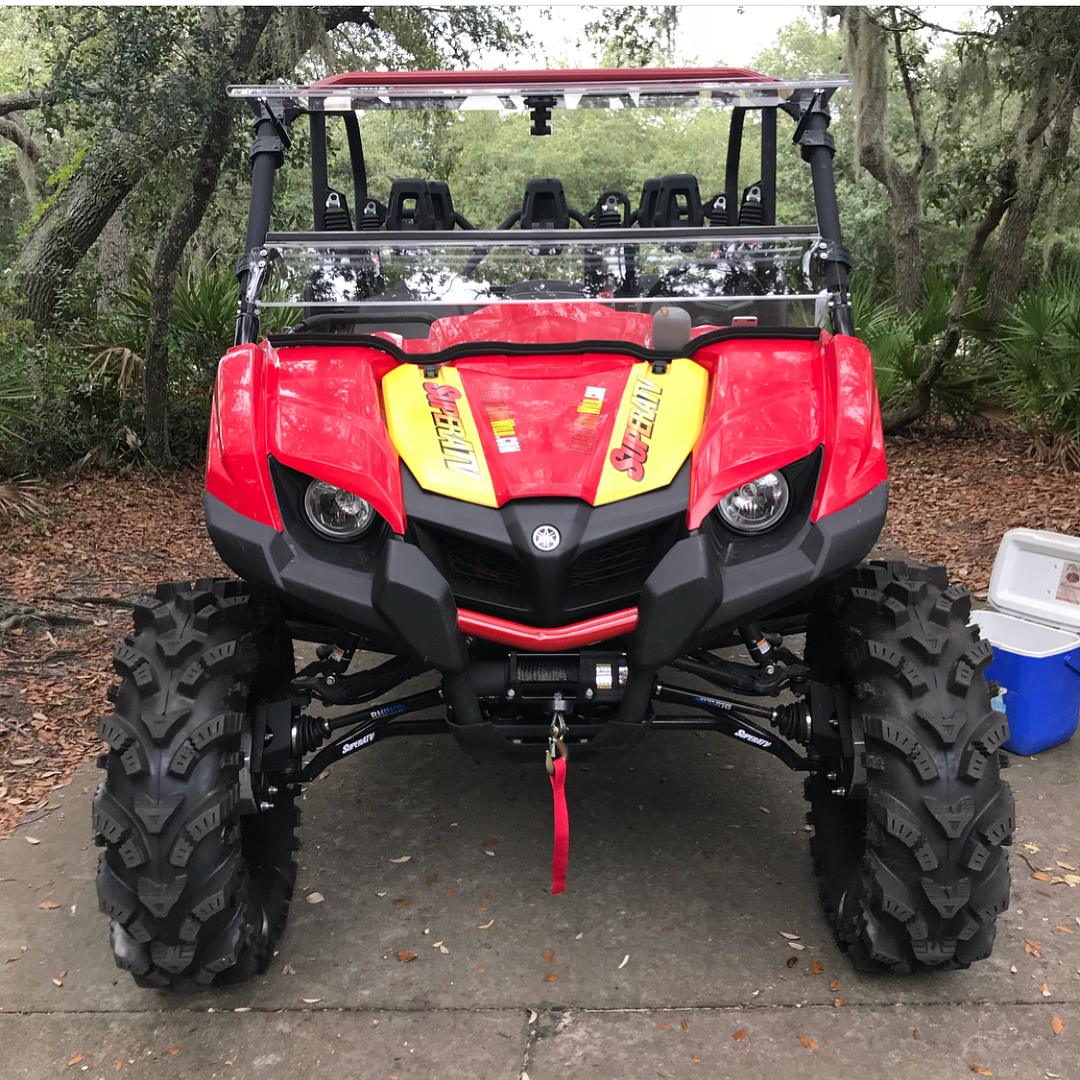 Now that we have the popular lift kits out of the way, let's talk tires for a moment.
As we mentioned earlier, adding a lift kit and/or a portal gear lift to your Yamaha UTV will give you wiggle room to add significantly taller and wider tires. You can cap off your weekend lift project with a new set for your machine that will increase ride height even further, and give you better handling in the environments you ride in most:
And just like that, we are at the end of our Yamaha UTV lift kit journey!
By now, we hope you have a good grasp of potential lift kits and the possible upsides and downsides of installing one in the first place.
Make sure to add a bigger set of tires while you're at it, and we will see you out on the trails!